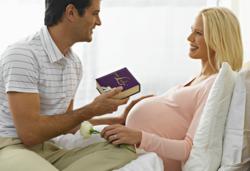 It wasn't enough for me to simply work with the upper echelons of society while leaving out so many women.
Miami, FL (PRWEB) November 12, 2012
Ask most people a year ago what a push present is and they would most likely say it's the extravagant gifts celebrities like Beyoncé, Nicole Kidman, and Jennifer Lopez started sporting throughout 2012 after giving birth to their babies. Ask someone today what a push present is and they'll say it's not only for the celebrities anymore.
Now it's something every day new moms are experiencing the thrill of receiving. Celebrities have influenced this type of present to blow up, but it's jewelry companies that are recognizing the demand, and most notably, Juno Lucina.
The term push gift is nothing new, but Juno Lucina has taken that term and reintroduced it as a cherished and historic symbolic meaning for the luxury market. Dedicated to creating that perfect moment when a child is born, Juno Lucina has mastered the art a push gift.
The overwhelming success of the company is partially because they didn't simply center their Custom Couture brand on their celebrity customers or luxurious status. Instead, they chose to assure that every woman gets the chance to experience the moment of receiving a push present. "It wasn't enough for me to simply work with the upper echelons of society while leaving out so many women who deserve to experience this important event in their journey through pregnancy," says Erik, founder of Juno Lucina. As the majority of their customers are still in their Custom Couture status, incredibly, Erik was able to take some of their most popular styles and make them available to everyone.
Just imagine a Chanel purse for only $300. Most people would be shocked, then thrilled. That's the reaction Juno Lucina receives every day. They are the only premier luxury product that has incredible and stylish pieces that are now affordable to everyone wanting to bless their loved one with such a gift.
Juno Lucina respects childbirth and the moment shared between a mother and new baby. For once, it isn't a brand trying to make a quick buck. They understand the wants and needs of their customers and go above and beyond to give it to them. Between their luxurious jewelry, gorgeous gift box and presentation, and their customer service, it's no wonder why Juno Lucina has become the go to company in commemorating perhaps the most important moment in a woman's life—her pregnancy.