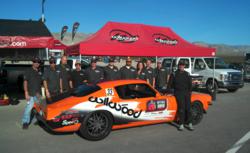 Camarillo, CA (PRWEB) November 08, 2012
This past weekend Brian Hobaugh won the BFGoodrich Hot Lap event at the 2012 Optima Ultimate Street Car Invitational driving his Wilwood equipped 1973 Camaro. He posted a 146.155 time around the Spring Mountain Motor Sports Road Course beating some of the fastest cars in the country. Hobaugh placed well in the other events including the Wilwood Speed Stop Challenge, Ridetech Autocross Challenge, and Lingenfelter Performance Design Challenge, finishing with an overall score of 82 points, just one point behind the event winner, Mark Stielow. The stacked field produced a tie for third place between Todd Earsley and Bret Voelkel. Click here to see the results of the entire field:
This event was just plain awesome. The weather was beautiful; the field included the best Street Cars in the world being driven to their limits, and an enthusiastic crowd being pumped up by Chad from Bang Shift on the PA system, and Bill Goldberg the event TV host. Catch all the action airing early in 2013 on Speed TV.