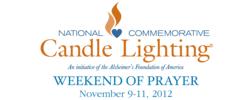 New York, NY (PRWEB) November 07, 2012
Nearly 150 local organizations from coast to coast will light "candles of care" from November 9 to 11 as part of the Alzheimer's Foundation of America's (AFA) 10th annual National Commemorative Candle Lighting/Weekend of Prayer to pay tribute to people who have or had the brain disorder, and their caregivers.
The local venues will be hosting the candle lighting ceremonies to mark National Alzheimer's Disease Awareness Month in November. Sites include houses of worship, senior centers, long-term care facilities and in-home care agencies.
Celebrating its 10th anniversary, the initiative aligns with the awareness-raising and educational objectives that are included in the recently-released national plan to address Alzheimer's disease. The U.S. Department of Health and Human Services unveiled the plan in May in response to the skyrocketing incidence of the brain disorder, and gaps in research, training and care-related support services. Alzheimer's disease results in loss of memory and other intellectual functions, and is the sixth leading cause of death in the United States.
Eric J. Hall, AFA's president and CEO, said the candle lighting ceremonies will take on special meaning this year for local areas in the Northeast devastated by Hurricane Sandy.
"Candle lighting ceremonies are inspirational and bring communities together. People affected by Alzheimer's disease get the sense that they are not alone, and, this year, people affected by the devastating storm will especially benefit from this spirit of unity," he said.
The Mid-Island Y JCC in Plainview, NY, which provides a respite program, support groups and social services for about 100 families impacted by dementia, will hold a candle lighting ceremony on November 11 from 10 a.m. to noon.
According to Susan Bender, the JCC's executive director, the agency opted to participate because "candles and light are very significant in Judaism to begin with. Therefore, it's a wonderful symbol for the Alzheimer's population."
Now, she agreed the ceremony is even more important, noting: "There's been so much devastation and disruption. The concept of light offering hope is embracing and powerful, and the population needs it at this time."
In another part of the country unaffected by this storm, but destroyed by others, Alzheimer's Services of the Capital Area in Baton Rouge, LA will hold its annual candle lighting on November 11 at 5 p.m.
"For people who do attend, it's a very heartfelt ceremony. They truly want to remember a loved one in a meaningful way, and it's always nice when you have someone to do it with," said Barbara Auten, the agency's executive director.
To locate a candle lighting ceremony, visit http://www.candlelighting.org or call (toll-free) 866-232-8484. AFA also invites the public to light a "virtual candle" at http://www.candlelighting.org.
As many as 5.1 million Americans have Alzheimer's disease, which is the most common cause of dementia. The number of people aged 65 and older in the United States is expected to grow from 40 million in 2010 to 72.1 million in 2030; the prevalence of people with Alzheimer's disease doubles every five years beyond age 65.
Warning signs include forgetting people's names and events, asking repetitive questions, loss of verbal or written skills, confusion and personality changes.
Also to mark National Alzheimer's Disease Awareness Month, AFA will hold its 10th annual National Memory Screening Day on November 13. About 2,500 local sites will offer free, confidential memory screenings and educational materials on that date or another day throughout the month.
The Alzheimer's Foundation of America, based in New York, is a national nonprofit organization that unites more than 1,600 member organizations nationwide with the goal of providing optimal care and services to individuals confronting dementia, and to their caregivers and families. Its services include counseling and referrals by licensed social workers via a toll-free hot line, e-mail, Skype, and live chat; educational materials; a free quarterly magazine for caregivers; and professional training. For more information about AFA, call toll-free 866-232-8484 or visit http://www.alzfdn.org.
###