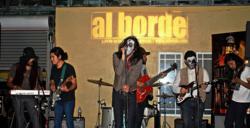 This is the third year that we participate in the Día de los Muertos event with Al Borde. The partnership has been very successful and I am looking forward to do more events with them in the future.
Los Angeles, CA (PRWEB) November 06, 2012
Altars, art exhibitions, flower offerings, candle lighting and dance were made in high-spirit, on Friday, November 2nd, as hundreds of attendees paid homage to lost relatives at Al Borde's 8th annual Day of the Dead Music & Art Festival.
Held at El Gallo Plaza in East Los Angeles, the celebration also featured a musical showcase in which Latin Alternative acts Jermaine Zavala of rock band La Theoria, and headliners Santoros, an emerging psychedelic rock band from Los Angeles, delighted the crowd with their repertoire of rock favorites.
"For me this performance was very special because it paid tribute to a great friend of mine that was also an amazing songwriter whom I admired very much," said Zavala, referring to the acoustic tribute he performed for Mario Lopez Lomar Jr., lead singer of L.A. indie rock band Curanderos who died on June 21, 2012 due to an aneurysm.
For Adolfo Canales Garcia, lead guitarist of Santoros, the event was an avenue in which to celebrate the tradition with an alternative edge. "It's great that what is a very cultural tradition can also be presented in a modern way with music that does represent a new, younger generation of Hispanic Americans." A live set by local DJ, DJ Cheebo, rounded out the musical performances of the evening.
Aside from music, the more than 700 in attendance also enjoyed free sweet bread, tamales and Mexican hot chocolate, as well as an art and altar showcase presented by Steven "Chatismo" Amado, one of Southern California's most respected artists and curators. Art supply gift cards were awarded to the best in each category. The "Best Altar" award went to Kat Jarvis and Danny Gamboa of ZKO Films, and "Best Art" to Alejandro Navia.
Jamie Villa of East Los Angeles was one of the numerous first-time attendees the event attracts each year. "I enjoyed the music and the art very much," she said. "I think this was a good example of what Day of the Dead represents because it honors our ancestors and friends that have passed."
At the event, men, women and children from various ethnicities dressed in ghostly makeup representing elegant skeletons. Children enjoyed face painting, guests made purchases of Day of the Dead artifacts from local vendors, and a 21+crowd enjoyed a VIP area sponsored by Jack Daniel's.
"This is the third year that we participate in the Día de los Muertos event with Al Borde," said Susana Gutierrez, Market Brand Manager-Southern CA-Hispanic for Jack Daniels. "The partnership has been very successful and I am looking forward to do more events with them in the future."
The presenting sponsors of Al Borde's cultural celebration were El Clasificado, Verizon and Jack Daniel's.
About Al Borde and Día de los Muertos Event
The Día de los Muertos Music and Art Festival is an annual, cultural celebration presented by Al Borde.com, a premier Latin alternative media outlet reaching the 18- to 34-year-old Hispanic demographic. Al Borde is owned and published by EC Hispanic Media company, El Clasificado, a multi-media publication and advertising solutions company with advertising platforms in print, online, and grassroots events. More than 1.5 million readers utilize the free Spanish-language publication every week. El Clasificado, a verified publication with a weekly circulation of 500,000, is distributed in over 290 cities throughout Southern California, the Central Valley, and now Yuma, Arizona. EC Hispanic Media also owns elclasificado.com which generates 10 million monthly page views from over 600,000 unique visitors across the United States.
Contact:
For media interviews or b-roll of the event please contact: Gabriela Alvarado, Public Relations Assistant at 1-800-450-5852 or via e-mail at mediarelations(at)elclasificado(dot)com.
For marketing, partnership opportunities please contact: Hugo Hernandez, Director of Marketing and Events, at 1-888-204-4591 or via e-mail at hugo.hernandez(at)elclasificado(dot)com.