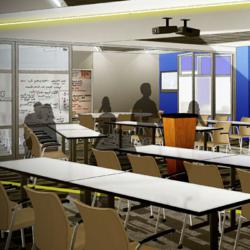 "We believe our plan will serve as a model for other community college districts nationwide," said Tom Dwyer, principal of BOKA Powell.
Ft. Worth, Texas (PRWEB) November 07, 2012
The Tarrant County College District (TCCD) has announced a new comprehensive growth plan, developed in partnership with architecture firm BOKA Powell LLC, to accommodate anticipated growth from 50,000 to 100,000 students in the next decade. The plan is the result of blending a traditional academic plan with a strategic real estate and facilities plan for all five campuses, which comprise more than 3.5 million square feet.
"A formal master planning process is critical as we prepare for exponential growth and change given increasing demand for accessible, affordable education," said TCCD Chancellor Erma Johnson Hadley.
Rapid population expansion, increasing demand for workforce retraining and continuing education, distance learning, dual-credit courses for high school students, veterans returning from deployment, and other factors are expected to fuel TCCD's growth.
"We engaged more than 1,000 students, faculty and TCCD administrators through one-on-one interviews, surveys, video campaigns, town halls and committee meetings to develop our plan, which we believe will serve as a model for other community college districts nationwide," said Tom Dwyer, principal of BOKA Powell.
Specific plan recommendations, unveiled earlier this month at the Association of Community College Trustees (ACCT) Leadership Congress in Boston, Mass., include:

A revolutionary process for the development, evaluation and implementation of new ideas and proposals that directly impact student success, known as the Innovation Forum.
Flexible use of existing space to accommodate growth and promote learning, such as multi-purpose, movable furniture systems and learning environments designed according to how the brain acquires information, as well as incorporating movable wall systems to allow classrooms to be instantly resized, and adding informal learning areas ("sticky spaces") that support collaboration and group study outside of the classroom.
New learning models that employ technology to allow students to work at their own pace in virtually any subject; software allows instructors to observe student progress in real time and intervene when a problem is spotted.
Consolidating student support services from numerous locations across the campus into a central, contiguous arrangement.
About Tarrant County College District
Tarrant County College District is a comprehensive two-year institution dedicated to providing quality education that exceeds the expectations of the people of Tarrant County. It serves more than 100,000 students annually. The College offers a wide range of opportunities for learners of all ages and backgrounds, including traditional programs, such as the Associate of Arts degree, Continuing Education courses, workshops and customized training programs. The College has five major campuses throughout Tarrant County plus the Trinity River East Campus for Health Care Professions. http://www.tccd.edu
About BOKA Powell
BOKA Powell is a nationally recognized architectural design, planning and interior design firm, with office locations in Dallas, Fort Worth and Austin, Texas. BOKA Powell's areas of expertise include higher education, health care, hospitality, commercial office, multi-family and mixed-use planning and design. Other recent BOKA Powell higher education projects include the Texas A&M Health Science Center at Blinn College in College Station, Texas, Boston Avenue Residential Commons and Murray Hall at Texas Tech University in Lubbock, Texas, and the Honors College at Texas Tech University. BOKA Powell has also recently completed the Omni Dallas Convention Center Hotel, the JPS Health Network Facilities Utilization Analysis and Strategic Plan in Fort Worth, Texas, Forest Park Medical Center in Frisco, Texas, and the Methodist Hospital for Surgery in Addison, Texas. http://www.bokapowell.com