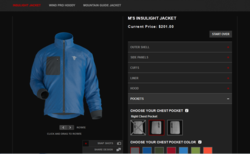 "This initiative, that uses Fluid's easy-to-use software, will change how consumers buy outdoor apparel."
San Francisco, California (PRWEB) November 08, 2012
Fluid, Inc., the creator of a leading on-demand visual merchandising suite and an award-winning digital agency, announced that outdoor technical apparel brand Wild Things has implemented Fluid's market-leading product configuration platform on WildThingsGear.com. Today online consumers can design and immediately visualize their outdoor gear, specifically the Wild Things Wind Pro Hoody or Insulight Jacket, with the outdoor clothing industry's biggest selection of features such as outer shell fabric, side panels, and insulation within the Make It Wild option.
"The distinctive imagery, user friendly 3D modeling and wide range of intuitive customizations provides our customers with a new way to connect with our brand, while enabling them to share their designs with friends and family via social networks like Pinterest and Facebook," said Ed Schmults, chief executive officer, Wild Things, LLC. "This initiative, that uses Fluid's easy-to-use software, will change how consumers buy outdoor apparel."
As an industry first, online consumers can configure and purchase Wild Things apparel on Moosejaw.com, an ecommerce site that offers merchandise for sports enthusiasts. The Fluid product configurator is decoupled from the Wild Things ecommerce platform, allowing it to be used across retail partner sites with little effort.
Visitors to the WildThingsGear.com or Moosejaw.com website can customize select styles by choosing from ten configurable attributes including outer shell fabric, side panels, cuffs, hood or no hood, chest pocket location, zipper pocket location, logo, ID/Imprint locations, insulation, and color. By offering several options to design their own jacket, Wild Things allows consumers to customize and visualize clothing specifically suited to their individual needs. As the clothing options are selected, the product configurator immediately shows the selection in a realistic 3D image.
Using the Share Your Design feature, consumers can show friends and family their newly designed clothing creations via social networks like Pinterest and Facebook, or by email or phone.
When the transaction is made through Moosejaw.com or WildThingsGear.com, the details of the order are sent to fulfillment via JTBSOP Consulting's robust order management system, M2O. M2O allows brands that want to offer customization the following key advantages: 1) the ability to partially or fully automate the order fulfillment and accounting processes; 2) complete visibility into the order to delivery value stream; and 3) a high level of customer service capability.
In addition to providing order management software for Wild Things, JTBSOP Consulting led the development of custom product offerings and the sourcing and implementation of the custom supply chain and manufacturing process.
"This is a quantum leap forward in customizable apparel as Wild Things offers functional customization, in addition to personalization and color, and supports it with tightly woven operations and manufacturing systems that enable it to scale easily and cost-effectively," said Jud Barr of JTBSOP Consulting.
Fluid's Product Configurator
Consumers are looking for a personalized and immersive experience – one that allows them to interact with products, and connect with brands. To compete, retailers need to deliver a personalized product on a mass scale. Fluid's product configurator is the market leading on-demand product customization software that allows retailers to scale, and continuously evolve customization offerings. Rapid to implement, it has a much lower cost of ownership than custom-built systems and provides a superior user experience that is fun, social, and personal.
About Fluid
Our on-demand visual merchandising suite and award-winning digital agency services incite consumer action. Our work for world-class retailers like The North Face, Clorox, Gymboree, Benefit Cosmetics, JELD-WEN, and Brooks Brothers brings their brands to life, making the digital shopping experience fun, vivid, intuitive and social. Brands and retailers tap our combination of strategic consulting, custom design and development services, and our visual merchandising suite to engage, convert and retain consumers with unique digital experiences.
Fluid is headquartered in San Francisco, with offices in New York and Chicago. For more information, visit http://www.fluid.com (agency services) or http://www.fluidretail.com (on-demand visual merchandising suite) and follow us on Twitter @Fluid or Facebook/FluidInc.
About JTBSOP Consulting
JTBSOP Consulting (also known as JTB Sales and Operations Consulting) was founded by CEO Judson Barr and is based in San Francisco, California. The firm provides strategic advisory, solution implementation, and proprietary order management software and integration services to fast growing consumer product companies. The firm's expertise stretches from the sales force to the factory floor to the retail or online store. Barr combines his extensive experience working with leading brands (i.e. Nike, Reebok, and PowerBar) with a passion for advising emerging product companies to deliver impactful results that support scalable and sustainable growth. For more information, please visit the JTBSOP Consulting web site at http://www.jtbsop.com.
About Wild Things
Founded in 1981, Wild Things, LLC has earned a reputation for sophisticated, tough, lightweight technical outerwear, alpine-style backpacks, haul-bags, and innovative tactical clothing. Chosen for the world's most demanding conditions by the world's most demanding users, Wild Things, LLC manufacture its products in the USA under two divisions – Wild Things for the outdoor enthusiast and WT Tactical for the unique needs of the military and law enforcement communities. In addition to the design studio and executive offices located in Newport, Rhode Island, Wild Things operates a retail store and second design studio.
###