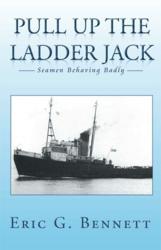 NEW ZEALAND (PRWEB) November 07, 2012
The life of a seaman is a rough existence. Contending with the adversities of the unforgiving ocean, maintaining the ship's delicate machinery, and dealing with the attitudes of superiors and subordinates alike are all part of the sailor's everyday routine. Author Eric G. Bennett depicts his own nautical experiences in "Pull Up The Ladder Jack: Seamen Behaving Badly," where he shows the ups and downs in the life of a British Merchant Seaman during the 1940s and the 50's.
Bennett begins with his childhood during the Second World War, in the middle of the Blitz, the German strategic bombing campaign on the United Kingdom. He recalls a youth spent in studying in classrooms and sleeping in air-raid shelters, collecting bomb fragments for souvenirs and celebrating when their school got blown up by a warhead. As the war went on, Bennett entered his teens and decided to quit school, in order to get a job on a maritime vessel. His humble beginnings as a seaman would involve cleaning cabins, making bunks, serving meals to older sailors, and working as an undertaker, measuring dead bodies and making coffins.
As the years went by, Bennett would eventually rise in position, and serve in many different ships along with their diverse crew members. Their jobs would involve towing derelict vessels out into sea for scuttling, or salvaging stricken ships for a price. The detritus of war that accumulated in the ocean's waters formed a constant backdrop for Bennett's sea adventures, a constant reminder of the conflict that had engulfed the world. The German warship known as the Admiral Graf Spee was among these ghosts of the past Bennett encountered in his journeys. Bennett also takes care to state the specifications and provide illustrations of the many different ships he served in, from simple tugboats designed for harbour duty to the large transoceanic oil tankers.
"Pull Up The Ladder Jack: Seamen Behaving Badly" is an in depth depiction of a seaman's life, and is a coming of age story set during the Second World War and the immediate post-war environment. Casual readers, as well as those with an interest in maritime stories and history enthusiasts will find this earnest and detailed autobiography to be highly informative and interesting with its depiction of both nautical matters and Bennett's own life story.
For more information on this book, log on to http://www.Xlibris.co.nz.
About the Author
Eric G. Bennett was born in Gravesend, Kent, England on 9th March 1931. He went to elementary school at Gravesend until December 1944, when at the age of 13 he left school with an urge to go to sea as many of his family had done before him. He joined his first ship the day after his 14th birthday on 10th March 1945. After sailing in various types of ships and seeing a variety of nations, Bennett found New Zealand's climate and people to his liking and emigrated there in 1953, where he resides to this day.
PULL UP THE LADDER JACK * by Eric G. Bennett
SEAMEN BEHAVING BADLY
Publication Date: October 25, 2012
Trade Paperback; $34.99; 181 pages; 978-1-4797-3475-7
Trade Hardback; $54.99; 181 pages; 978-1-4797-3476-4
Members of the media who wish to review this book may request a complimentary paperback copy by contacting the publisher at 0800-891-366. To purchase copies of the book for resale, please fax Xlibris at (09) 353-1455 or call 0800-891-366.
For more information, contact Xlibris at 0800-891-366 or on the web at http://www.Xlibris.co.nz.