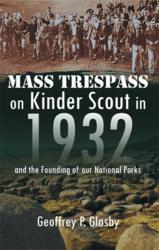 United Kingdom (PRWEB) November 07, 2012
Kinder Scout is the highest point in the Peak District National Park. It covers an area of 13 km2 and rises to a maximum height of 636 m above sea level. It can be a very dangerous place. The moorland plateau itself is monotonous making it difficult to orient oneself and the weather can change quite suddenly from bright sunshine to thick mist, making it impossible to find one's way. It is also quite boggy. In winter, the Peaks are shrouded in fog. Dark Peak on Kinder Scout was also notorious for aircraft crashes. The weather can change rapidly without warning and there were no modern navigational aids at that time. Historically, the plateau was the target of the mass trespass in 1932, which resulted in a UK-wide rethink of access to the countryside. From the National Park's inception, a large area of the high moorland north of Edale was designated as 'Open Country'. In 2003, the "right to roam" on uncultivated land was enshrined into law, and this area of open country has been significantly extended.
In his book titled Mass Trespass on Kinder Scout in 1932, author Dr Geoff Glasby recalls and commemorates an iconic event that pave the way to the opening of the countryside for all. This mass trespass of Kinder Scout was a notable act of willful trespass by ramblers. Undertaken to highlight walkers in England and Wales who were denied access to areas of open country, political and conservation activist Benny Rothman became one of its principal leaders.
As such, the mass trespass on kinder scout is a landmark event in history that readers of this book and everyone else should and will always remember. Such exodus paves the way for ramblers to be given the rights to wander around the countryside as they saw fit without any requirement to explain themselves. The mass trespass on Kinder Scout in 1932 had repercussions around the world and will forever influence the way everyone look at the countryside.
For more information on this book, interested parties may log on to http://www.XlibrisPublishing.co.uk.
About the Author
Dr Geoff Glasby is a prolific author who has published over 350 scientific articles over a period of 40 years on a wide range of topics, particularly in the marine sciences. He graduated with first class honours in chemistry from Oxford University in 1965 and holds the degrees of Ph.D. from Imperial College, London, for a thesis of 674 pp. entitled The Geochemistry of manganese nodules and associated pelagic sediments from the Indian Ocean awarded in 1970, a D.Sc. from Victoria University of Wellington, New Zealand, 1994 where he worked for 22 years and a D.Sc. from Oxford University, 1996. He has also edited a major book on Marine Manganese Deposits for Elsevier which was published in 1977, 523 pp.,and was an Alexander von Humboldt Fellow at the Rhienish Westfallische Technishe Hochschule, Aachen, under Professor G.H Friedrich, Der Weiss Bart, from 1979-1981. He now works around the world with scientific colleagues and is about to carry out further studies with his colleague, Sunzhielie, in Qingdao, China. He has recently written two major books on the Mass Tresspass on Kinder Scout in in 1932 and on North Korea which will be published late in 2012.
Mass Trespass on Kinder Scout in 1932* by Geoffrey Glasby D. Sc. and the Founding of our National Parks
Publication Date:
Trade Paperback; £9.99; 50 pages; 978-1-4691-7893-6
Trade Hardback; £19.99; 50 pages; 978-1-4691-7894-3
Ebook; £3.99; 978-1-4691-7895-0
Members of the media who wish to review this book may request a complimentary paperback copy by contacting the publisher at +0800-644-6988. To purchase copies of the book for resale, please fax Xlibris at 44-203-006-8880 or call +0800-644-6988.
For more information, contact Xlibris at +0800-644-6988 or on the web at http://www.XlibrisPublishing.co.uk.