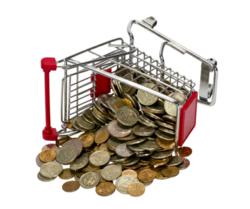 Costco reported a seven-percent jump in its key same-store sales reading in October.
New York, NY (PRWEB) November 07, 2012
In a recent Investment Contrarians article, editor and financial expert George Leong reports that retail sales for October (comprising of 18 national retailers polled by Thomson Reuters, excluding drugstores) surged a better-than-expected 4.7% versus the estimate of 4.3%. (Source: "Retailers Report an Upbeat October," The New York Times, November 1, 2012.) According to Leong, the pickup in the retail sector is encouraging; and with the current decline in gasoline prices, the pickup in jobs, and the growing strength in the housing market and prices, Leong notes that retail sales could be strong this upcoming holiday shopping season.
Leong notes that the upcoming holiday shopping season that officially begins with the critical Black Friday on November 23 is key to sales growth in the retail sector.
"Costco reported a seven-percent jump in its key same-store sales reading in October," states Leong. "The results continue to show steady growth; but for that extra bit of growth, [investors] should look at the smaller discount companies in the retail sector."
While Leong reports that discounter Target reported a slower rise in sales in October, the leading bellwether in the retail sector will be betting on the holiday shopping season when some retailers can generate up to 40% of the company's total annual sales. (Source: "Target October sales figure rises," Yahoo! Finance from The Associated Press, November 1, 2012.)
Leong notes that small-cap discounter PriceSmart is expected to see stronger growth than bellwether Costco, a large-cap retailer that has seen strong growth in this weak economy.
He reports that Costco "…is estimated by Thomson Financial to report sales growth of 6.6% and 8.2%, respectively, for the 2013 and 2014 fiscal years… Consider the comparative sales growth for PriceSmart by Thomson Financial, which is 19.2% and 15.4%, respectively, for the 2012 and 2013 fiscal years—higher than Costco."
Consumer spending drives the retail sector, economy, and gross domestic product (GDP) growth, states Leong. And, when the housing market and jobs numbers pick up, the Investment Contrarians expert expects consumer spending in the retail sector to continue to increase, especially on non-essential goods and services.
Leong concludes by advising investors to look to the discounters and big-box stores when looking to invest in the retail sector: "The big-box stores are now selling a broad range of electronics and are adding to their product lines; they offer consumers a one-stop place for shopping and higher revenue flow."
To see the full article, and to get a real contrarian perspective on investing and the economy, visit Investment Contrarians at http://www.investmentcontrarians.com.
Investment Contrarians is a daily financial e-letter dedicated to helping investors make money by going against the "herd mentality."
The editors of Investment Contrarians believe the stock market and the economy have been propped up since 2009 by artificially low interest rates, never-ending government borrowing, and an unprecedented expansion of our money supply. The "official" unemployment numbers do not reflect people who have given up looking for work, and are thus skewed. They believe the "official" inflation numbers are also not reflective of today's reality of rising prices.
After a 25- to 30-year down cycle in interest rates, the Investment Contrarians editors expect rapid inflation caused by huge government debt and money printing will eventually start us on a new cycle of rising interest rates.
Investment Contrarians provides unbiased research. They are independent analysts who love to research and comment on the economy and investing. The e-newsletter's parent company, Lombardi Publishing Corporation, has been in business since 1986. Combined, their economists and analysts have over 100 years of investment experience.
Find out where Investment Contrarians editors see the risks and opportunities for investors in 2012 at http://www.investmentcontrarians.com.
George Leong, B. Comm., one of the lead editorial contributors at Investment Contrarians, has just released, "A Problem 23 Times Bigger Than Greece," a breakthrough video where George details the risk of an economy set to implode that is 23 times bigger than Greece's economy! To see the video, visit http://www.investmentcontrarians.com/press.