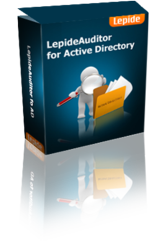 A complete AD change tracker with multiple Compliance reports
(PRWEB) November 09, 2012
LepideAuditor for Active Directory is designed and developed to help creating highly secured AD environment and uphold compliances (HIPAA, PCI, SOX and ITIL etc.) through effective Active Directory Audit and get a control over critical changes.
LepideAuditor for Active Directory provides every miniature detail about changes made in Active Directory objects such as, who changed what, in which object, when and from where. To keep the administrator informed about critical change, software also generates real time alerts. These alerts make it possible to identify the critical changes at the earliest and restore sensitive changes to prevent Active Directory from major damages.
LepideAuditor for Active Directory features are spread across two functional areas i.e. Active Directory Change Reporting (alerts and reports) and Active Directory Change Control; let's have a thorough look at them.
AD Change Tracking: LepideAuditor for Active Directory provides comprehensive AD change tracking functionalities to get details of what changes made in AD by whom, when and from where. AD change tracking features include:
Comprehensive tracking of all domains available in the forest Sends instant alerts to administrator about critical changes Scheduled report generation for periodic update on AD changes Reports on structural changes made in AD
AD Change Control: LepideAuditor for Active Directory helps to identify and control critical changes with these AD change control functionalities:
Facility to take periodic snapshots of various states of Active Directory automatically Restore only undesired changes Restore AD to a previous stable state. Thus, the software acts as a full fledged Active Directory Backup and Restore solution as well.
LepideAuditor for Active Directory can eliminate outage and downtime by detecting destructive changes that may lead to unstable AD environment. Being embedded with comprehensive AD change tracking and control features and functionalities, LepideAuditor for Active Directory will help to reduce organization's exposure to risks such as, security breach, fraudulent activities and compliance violation.
Versions Available
LepideAuditor for Active Directory is available as two editions i.e. Freeware Edition and Enterprise Edition. Freeware edition is available free of cost and for lifetime use, but with limited features. Enterprise edition is the fully functional version of the software. The comparison between the editions can be found on our Lepide Software website. A free trial license of enterprise edition can be attained to evaluate the software potential before making any decision over purchase.