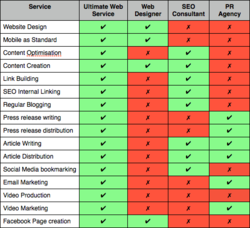 Our Ultimate Web Service is the culmination of years of research and working with clients to learn what they want and what actually works best in todays changing web and search engine landscape
Brighton, Sussex (PRWEB UK) 9 November 2012
They'll get you online in less than a day too.
The UKs technology and digital hub, Brighton is home to Segment Marketing, the company that is has just launched what they call the "Ultimate Website Service" which includes everything your business needs to get online and win the race to the top of the search engines and stay there.
Segment Marketing Director Stephen Counsell say "Our Ultimate Web Service is the culmination of years of research and working with clients to learn what they want and what actually works best in todays changing web and search engine landscape".
The Ultimate Web Service is based around the need for both traditional bricks and mortar businesses and excising online businesses to perform well in the on line search medium of Google and BING search engines.
Research shows that more than 83% of people looking for your Products or Services will start their search online and most of these searches will start on the Google search engine.
Segment Marketing have built the Ultimate Web Service to help businesses of all sizes to compete and win the race for new clients.
Building on their 20 years experience in the internet industry including designing and constructing websites, traditional SEO and Link Building Segment Marketing have created a combined service that includes everything your business needs to out perform your competitors. here's why:

Websites are built to the latest modern standards and work across all devices
Links to Social Media including Facebook, Linked In, Twitter, Pinterest, Youtube etc.
Content creation for your website, Facebook pages, Twitter, Pinterest & Youtube video
Regular blog posts expertly written for you
Email Marketing that drives traffic back to your website
Fully UK based website hosting for both Website and Email (inc MS Exchange)
Press Release creation and distribution
Article Marketing (writing and distribution)
Social Media Bookmarking
Links Building
Sussex Copywriting Services commented "Stephen truly had my business success in mind," Susan shared. "I felt he really understood every important detail of getting my website to the top of the search engines and helping me to convert visitors to customers" Susan Beckingham Sussex Copywriting.
How does this "Ultimate Web Service" Compare? See the comparison chart with this article.