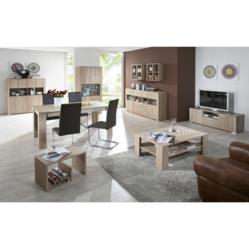 New Living with dining Room Collection Tavola Canadian Oak range is Now Available at FurnitureInFashion
(PRWEB UK) 10 November 2012
Just around the Christmas festivity, FurnitureInFashion has launched its new, modern and invigorating Tavola Canadian living plus dining range exclusively in oak finish. Tavola is exclusive as it not only offers solution for living room but also dining room as well with its fine oak dining table. This range is another addition to the marvelous collection of furniture collections offered by FurnitureInFashion in contemporary and modern styles.
The furniture collections at FurnitureInFashion provide every solution for home requirements and homeowners definitely can be interior designers of their homes by installing these collections. The owner and Managing Director of FurnitureInFashion Asad Shamim said, "FurnitureInFashion believes in bringing innovation in homes with design, class and convenience. our Tavola Canadian Oak range is all about convenience, style and perfection any homeowner could ask for. The storage capacity of the units in this furniture collection range will allow the homeowners to display and store ornaments. With oak finish, homeowners can now add luxury to their living rooms with cutting edge designs and functionality. We are offering this beautiful range at very affordable price around Christmas to help you make warm memories as you spend quality time with your family and friends."
The canadan Oak range of living and dining room furniture is a part of complete solution for every home requirement. It is a stylish range manufactured by using German manufacturing processes to create ideal home ambiance. This range offers Tavola sideboard, display cabinets, glass door display stand, Mike Canadian oak coffee table, Canadian oak dining table, wall shelves, Canadian oak TV stand and another coffee table with under shelf.
Tavola sideboard has 2 large doors and 3 drawers in contemporary style. This sideboard has a stunning Canadian Oak finish with stylish handles to give chic look. The surface is extremely durable to provide protection against heat and scratches. Mr. Asad Shamim said, "This sideboard is an ideal storage solution for your living and dining rooms. In a living room, you can store any extra items in this sideboard and in dining room, you can store extra cutlery in it."
Tavola offers glass door display cabinet with 2 doors. It has oak finish and is ideal not only for storage but also for displaying ornaments. The melamine surface provides protection against scratches whereas tempered glass provides string and durable display unit. Another large display cabinet also provides ample storage and display with drawers for storage. Mr. Asad said, "We have added two Canadian oak coffee tables in this range.
The unique coffee tables have oak finish and have been constructed with best quality materials. One of the coffee tables is equipped with under shelf where you can store newspapers, books or other ornaments." Tavola range also offers a TV stand in Canadian oak finish. TV stand has 2 doors, 1 drawer and I open compartment.
The exclusivity of this range is the presence of Canadian oak dining table which is available without chairs however customers can buyer chairs separately. It is suitable for style conscious modern home owners and can add strong style statement to any dining or living room. Tavola range hasn't left out the aspect of walls and therefore offers stylish wall mounted shelving in Canadian oak. It has four open compartments to store or display books and CDs.
Mr. Asad Shamim said, "Our Tavola range is offering every living/dining room solution for your home. You can definitely organize your home with personality by installing this beautiful furniture range."
About FurnitureInFashion
FurnitureInFashion is a UK based online retail business. It supplies furniture items from its German based warehouse and has a showroom in Bolton, UK. The company provides everything from umbrella stand wall art and room dividers to bedroom, bar stools and computer tables. FurnitureInFashion offers excellent free delivery within UK and has a fantastic customer service as well.