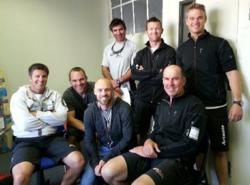 Oakland, CA (PRWEB) November 07, 2012
Hearing Zone's Dr. Ray Crookston is proud to announce the involvement of his audiology center with the 2013 America's Cup yachting competition. Dr. Crookston and Hearing Zone will be providing customized earpieces to the Swedish team from the Royal Swedish Yacht Club for next year's competition.
Dr. Crookston and his staff recently took impressions of the ears of each crew member so they can be fitted with communication devices that will sit snugly in their ears. Communication is vitally important for successfully yachting operations, and wearing custom fitted pieces allows crew members to hear everything they need to without the interference of the wind and waves.
Team Artemis from Sweden will be going against BMW Oracle Racing from the Golden Gate Yacht Club in San Francisco from September 7th through the 22nd of next year. At stake is both the bragging rights among yacht clubs around the world and the coveted America's Cup trophy. The trophy is the oldest in active sports having been first awarded in 1851.
For Dr. Crookston and Hearing Zone, being part of the Team Artemis efforts is an honor. It's also a testament to the group's expanding knowledge and expertise in hearing aid products; expertise provided to their clients on a daily basis.
Hearing Zone is fully aware of how important proper hearing is to everyday life. Dr. Crookston and his audiologist father work together, along with their staff, to make a significant difference through better hearing.
"Our mission statement at Hearing Zone is clear: to help people hear better and to help with their quality of life," says Dr. Crookston.
About the company:
At Hearing Zone our doctors of audiology strive to serve the people of Alameda, Oakland and surrounding Bay Area. With our ever expanding knowledge-base and superior hearing products, rely on us to be there for all your hearing loss needs.
Their mission statement at Hearing Zone is clear: to help people hear better and to help with their quality of life. They take great responsibility to giving back an individual's hearing and they know the significance it can have in people's lives. The family at Hearing Zone consists of father-son audiologists and our dedicated friendly staff. For more information, please visit their website at http://www.hearingzonedoctors-ba.com.