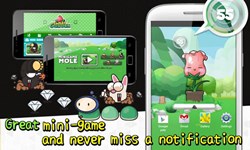 Sweet Garden is a highly rated widget for the Android and currently boasts 4,755 ratings at 4.5 stars.
Seoul, South Korea (PRWEB) November 08, 2012
Sweet Garden, a newly launched Android app from Toast Co., is raking in fans with its green thumb-centric pet raising theme. The new app highlights not only the exceptional mobility of Android games—perfect for an ongoing pet-raising goal—but the versatility and interactivity possible with the operating system's famous homescreen widget functionality.
Sweet Garden critics like Talkandroid.com are attributing their ongoing infatuation with the app to the engaging character's animation, communication, and personality. "If you like "pet raising' games or are intrigued by them, this is the one to download!" Other app experts, like Apptapp.com, are pleased with the game's inherent convenience. "If you enjoy sims or Tamagotchi style management games, then this just may be for you... in all it's a zany simulation with a unique style of play right from your homescreen."
Sweet Garden doesn't just provide gamers with a great new way to interact with in-game The app also make this interaction far more engaging in a unique new way. While players must enter the actual app to perform tasks for their pet, the adorable sprout is always visible on their home screen thanks the animated, interactive widget installed alongside the app proper. The so-called "ppu"—a pet name for the anthropomorphic pet plant—comments on its current status in various ways. Each type of ppu—and there are many, exhibit their own personality quirks during these interactions, creating a fun relationship with the player and contributing to the game's exceptional playability over time.
Sweet Garden is available worldwide for free now in the Google Play Store. It currently ranks #1 in the game widgets category, #14 in the casual category and has recently hit top 50 in the overall games category.
Google Play Link: https://play.google.com/store/apps/details?id=toast.sweetgarden
About the Developer:
Toast Co., was established in 2010 as a smartphone game studio and has already made enormous strides in the Korean Mobile Industry. Their dedication and intuitiveness resulted in receiving 4 patents in Game & Advertising Technology. In addition, Sweet Garden received the Bronze Award in the Global App Awards by the 3rd Annual KT Economic Fair. They hope that players from around the world will appreciate their work and currently have more games dedicated to core players in their lineup.