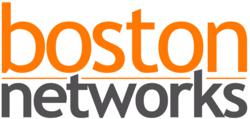 With this acquisition Boston Networks will now fully absorb Tough Security Systems diverse skill set and extensive experience to enable the delivery of truly world class, integrated security solutions – throughout the UK
Glasgow, UK (PRWEB UK) 9 November 2012
Boston Networks Limited is a UK leader in the design, installation and support of high-performance Intelligent Building Systems and Wireless Solutions and has achieved startling success since the launch of its Integrated Security Systems Division encompassing, Network Video Surveillance (CCTV), Building Access Control and a new 24/7 Network Operation Centre in Glasgow.
Only recently Boston Networks has been awarded 'Partner of the year' from, the global leader in open platform IP video management software, Milestone Systems and also Gold Partner status from Axis Communications, leaders in network camera manufacturing, in recognition of a number of prolific project wins in the UK security marketplace.
With the acquisition of Tough Security Systems, and the absorption of its skilled staff and engineering base, Boston Networks will now offer a broader range of solutions to its clients including Public Space CCTV, Fire Safety Systems and Monitored Intruder Detection Systems. Such additions to Boston's, already extensive portfolio will further facilitate its reputation as one of the leading suppliers of integrated security solutions, as well as enable them to achieve their mission of becoming Scotland's leading Network & Security Systems Integrator.
Commenting on the recent acquisition, Scott McEwan, Managing Director, Boston Networks, states:
'Over the past 24 months, Boston Networks has embarked on a strategic move to enhance our solution offering from not only designing, deploying and maintaining intelligent networks but also delivering integrated security solutions that maximise these networks and deliver safety & security to our clients staff and assets.
Building on the success of our integrated security offering, we are very excited to further strengthen our portfolio to fully incorporate Public Space CCTV, Fire Safety Systems, Intruder Detection Systems and Monitoring & Response on a larger scale. A fully integrated approach to security delivers highly secure and scalable solutions that can be centrally and remotely managed, deliver a rapid return on investment and also deliver multiple environmental benefits – which as technology continues to evolve we know are crucial to UK business'.
Commenting further on the acquisition, Hugh Hamill, Managing Director Tough Security Systems, states, 'Viewing the security landscape in the UK, Tough Security Systems undoubtedly believes that a more integrated approach to security is, by far, more effective. With this acquisition Boston Networks will now fully absorb Tough Security Systems diverse skill set and extensive experience to enable the delivery of truly world class, integrated security solutions – throughout the UK.' Ends
About Boston Networks
Boston Networks Design, Deliver, Manage and Maintain high performance network infrastructures and wireless systems, connecting you and your business anywhere.
Whether you're deploying cabling services, enterprise wireless LAN, multi-site hybrid telecoms networks or you require advanced technology, such as network video surveillance or RFID; we deliver competitive solutions making your business smarter and leaner.
Press Contact
Lynsey Jenkins
lynsey.jenkins (at) bostonnetworks (dot) co (dot) uk
07827953631
bostonnetworks.co.uk