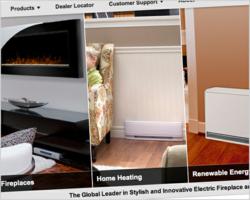 Cambridge, Ontario (PRWEB) November 08, 2012
Dimplex, the world leader in electric heating solutions is pleased to announced the launch of a brand new Dimplex.com, developed to offer easier navigation, educational tools and a more enjoyable and easy experience while shopping for home heating solutions online.
Many of the new features of Dimplex.com were developed based on user feedback. With more enhanced copy, larger photos and interactive tools, the site offers a more comprehensive shopping experience.
Redesigned product pages offer a cleaner, simpler look that showcases multiple images, zoom feature, animations, different product options as well as specifications and design information. Different tabs make it easier to read the description, find data, download manuals and sell sheets and even watch videos.
Easily narrow your searches with the helpful selection tool that allows you to search by product and color to find the perfect product for your need, style and taste. We also allow the option for you to share, email, tweet, pin and like all our products listed on the site though the many social media platforms.
These impressive features and user-friendly navigation make the new dimplex.com an enjoyable site to research, gather information and shop.
About Dimplex:
Dimplex North America Limited, headquartered in Cambridge, Ontario, is North America's leading manufacturer/marketer of electric fireplaces and is a division of the Glen Dimplex Group of Ireland. The Glen Dimplex Group is the world's leading manufacturer of electric heating products, having demonstrated outstanding innovation, quality and customer service for more than 35 years.
###