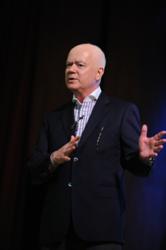 "Our country needs strong leaders now more than ever before. How fortunate La Verne is to have such a powerhouse of information on our campus, influencing our current and future leaders."
La Verne, CA (PRWEB) November 08, 2012
"I do not think there was a person in the room who was not moved by Kevin Cashman's brilliance in regard to leadership," said Devorah Lieberman, Ph.D., President of the University of La Verne. "Our country needs strong leaders now more than ever before. How fortunate La Verne is to have such a powerhouse of information on our campus, influencing our current and future leaders."
Cashman shared key concepts from his book, The Pause Principle, as he addressed an audience of more than 150 students, alumni, faculty, and distinguished guests of the Doctor of Education in Organizational Leadership Program. A global CEO coach and innovator of the "grow the whole person to grow the whole leader" approach to integrated leadership development, he is the author of the best-selling book Leadership from the Inside Out, which is used in more than 100 universities, including the University of La Verne. He has also been featured in The Wall Street Journal, Fast Company, Forbes, Oprah, CNN, and NPR.
La Verne College of Education & Organizational Leadership's Dean Mark Goor said, "Kevin Cashman modeled being an authentic leader who delivered insights with warmth. His presentation connected beautifully with the doctoral program that prepares reflective and visionary leaders. I was moved by his mature intuition about the importance of "the pause" in our daily interactions and our professional/personal balance."
Cashman's current book is grounded in recent leadership studies and in neuroscience research. He suggested that, "When one part of the brain relaxes, other parts of the brain wake up." He explained that it is during these pauses that creativity and innovation are most likely to occur. He provided strategies for leaders to practice reflection including listening, assessing, coaching, asking questions, and making the time for reflection.
"Pause powers purposeful performance," noted Cashman. Department Chair, Dr. Laura Hyatt who launched the Ed.D. Chair's Speaker Series agreed, "In times of chaos we need clear-thinking leaders who can navigate complex environments. Kevin Cashman's compelling message resonated with the audience and aligned with the mission of La Verne's Ed.D. Program, which is 'To develop scholarly practitioners as leaders and architects of change who make significant contributions to the organizations and communities they serve.'"
Kevin Cashman's new book The Pause Principle: Step Back to Lead Forward is also read by students in the Doctor of Education in Organizational Leadership Program at the University of La Verne.