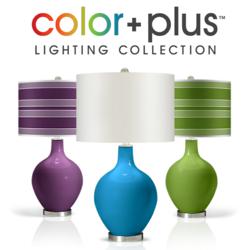 60+ designer colors, hand-crafted to order with white or custom coordinated shades.
Los Angeles, California (PRWEB) November 08, 2012
Lamps Plus introduces the Color + Plus(TM) Lighting Collection, featuring hand-crafted, colored glass table lamps in more than sixty designer colors. Created using a proprietary method at the company's California headquarters, these fashion-forward, custom lamps are the newest addition to the company's lighting product line and are available for purchase online at LampsPlus.com.
"The Color + Plus Lighting Collection speaks to consumer demand for custom designs," says Dennis Swanson, Owner and CEO of Lamps Plus. "Building on the enthusiasm we've seen for our custom giclee 'Design Your Own' lighting, this concept entreats customers to browse through more than sixty colors to find a look that is distinctly their own."
Additionally, Color + Plus expands Lamps Plus' California-based manufacturing operations. Swanson continues, "We are particularly delighted that this home-grown concept is hand-crafted daily by our team of artisans, right here at our corporate headquarters."
Currently, each Color + Plus lamp features a glass base with brushed steel accents. This contemporary styled, high-gloss colored base is paired with the customer's choice of a white linen drum shade or a custom matching translucent stripe pattern giclee printed shade.
Color – and lots of it – is the impetus behind the creation of the Color + Plus Lighting Collection. In that regard, Lamps Plus has made it easier than ever for customers to find their exact hue. "Each of our designs is based on colors from nationally recognized companies such as Pantone, Sherwin Williams and Benjamin Moore," explains Angela Hsu, Vice President of Internet Marketing at Lamps Plus. "To help customers find a perfect match, we've included digital 'paint chips' on our website, detailing the brand and identification number of each color.
Customers in the midst of a home decorating project can compare designs on the computer screen with the actual color at their local hardware store to find the exact match or complement for their walls. And with Lamps Plus' recently launched mobile website, they can easily browse the Color + Plus collection while at the paint store too."
Color + Plus expands on the California-based retailer's commitment to offering consumers unparalleled selection and value. More Color + Plus base colors will be introduced in early 2013, including Monaco Blue, Pantone's Top for Color for Spring 2013. Lamps Plus will also introduce more custom lamp shade designs, as well as additional table lamp and floor lamp base options. The entire selection of Color + Plus lamps is on view and for sale at LampsPlus.com/color-plus/.
About Lamps Plus
For more than 30 years, Lamps Plus has been synonymous with excellence in the retail lighting industry. Established in 1976, Lamps Plus is the nation's largest specialty lighting store, with more than 40 superstores throughout the western United States. Together with their retail locations and online business, Lamps Plus serves customers nationwide with the largest selection of functional and decorative lighting fixtures, accessories, furniture and home decor. This selection includes hundreds of products, ranging from traditional chandeliers to the latest in home decor, available exclusively from Lamps Plus. Services include in-home lighting consultations, in-store workshops and installation from expert, licensed electricians. American Lighting Association certified designers are available to offer product recommendations and advice in all our stores, by phone or online at LampsPlus.com. The Lamps Plus family of websites also includes 55 Downing Street, Lighting Luxury Style, Builders Discount Lighting, and Lamps Plus Open Box.