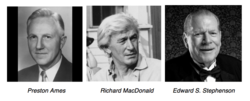 Their creative legacy continues to inspire and challenge all of those who have chosen the art of production design as their profession and it is appropriate that we honor their memory through their induction into the ADG Hall of Fame.
Los Angeles, CA (PRWEB) November 07, 2012
Three legendary Production Designers – Preston Ames, Richard MacDonald, and Edward S. Stephenson – will be inducted into the Art Directors Guild (ADG) Hall of Fame at the Guild's 17th Annual Excellence in Production Design Awards Presented by BMW ceremony to be held at the Beverly Hilton Hotel on February 2, 2013, as announced today by ADG President Thomas A. Walsh and Awards Producers Greg Grande and Raf Lydon.
Previous ADG Hall of Fame inductees, which are only given posthumously, are Robert F. Boyle, William S. Darling, Alfred Junge, Alexander Golitzen, Albert Heschong, Eugène Lourié, John Box, Hilyard Brown, Malcolm F. Brown, Wilfred Buckland, Henry Bumstead, Edward Carfagno, Carroll Clark, Richard Day, John DeCuir Sr., Hans Dreier, Bob Keene, Cedric Gibbons, Stephen Goosson, Anton Grot, Stephen Grimes, Ted Haworth, Dale Hennesy, Harry Horner, Joseph McMillan "Mac" Johnson, Romain Johnston, Boris Leven, John Meehan, William Cameron Menzies, Harold Michelson, Van Nest Polglase, Ferdinando Scarfiotti, Jan Scott, Alexandre Trauner, James Trittipo and Lyle Wheeler.
In making the announcement, ADG President, Thomas A. Walsh, said, "This continues to be a proud moment for our Guild as we look to the past so we may build the bridges to our future. The ADG Hall of Fame recognizes the many achievements of those artists who created and evolved the unique discipline of art direction for the moving image. Their creative legacy continues to inspire and challenge all of those who have chosen the art of production design as their profession and it is appropriate that we honor their memory through their induction into the ADG Hall of Fame."
Nominations for the 17th Annual ADG Excellence in Production Design Awards Presented by BMW will be announced on January 3, 2013. On awards night, February 2, the ADG will present winners in nine competitive categories for theatrical films, television productions, commercials and music videos. Recipient this year of the Guild's Lifetime Achievement Award Presented by BMW will be production designer Herman Zimmerman, as previously announced. Recipient of the Outstanding Contribution to Cinematic Imagery award will be announced in the upcoming weeks. For the fourth consecutive year Paula Poundstone is set to host this year's show.
ADG Awards are open only to productions, when made within the U.S., by producers signatory to the IATSE agreement. Foreign entries are acceptable without restrictions.
PRESTON AMES (1906 - 1983)
Preston Ames began his career while studying architecture in France and while working as an architectural draftsman in San Francisco before being hired as a draftsman for the art department at MGM. It was there that he officially started his Hollywood career while working on The Wizard of Oz in 1939 as a draftsman headed by supervising Art Director Cedric Gibbons. Graduating to Art Director only five years after his Hollywood debut, Ames' most notable success took place during MGM's golden musical era. In a career spanning nearly 40 years, Ames went on to work on a variety of pictures including An American in Paris (1951) and Gigi (1958), both for which he won Oscars®. He was nominated six times for Academy Awards® in Art Direction. Other highlights of Ames' career include recreating the ill-fated Titanic in The Unsinkable Molly Brown (1964), the mystical city of Brigadoon (1954), as well as doing production design on all of Vincente Minnelli's MGM musicals.
RICHARD MACDONALD (1919 - 1993)
Richard MacDonald was a British artist and production designer for stage and film. MacDonald studied to become a painter at the Royal College of Art and then served in the Royal Navy during World War II. After the war, he taught painting at Leeds College of Art and the Camberwell School of Art in London. He worked briefly as a theatrical set designer before starting his film career as an Art Director in 1954. MacDonald made many uncredited contributions to several of the blacklisted directors' films in the 1950's and from 1955 to 1965 he worked as a television art director for advertising firms and began drawing for the films of the blacklisted American director, Joseph Losey. It was during Losey's Modesty Blaise (1965) that MacDonald would receive his first Production Designer credit. Richard MacDonald has been nominated for three BAFTA Awards in the Best British Art Direction (B/W) category for King & Country (1964), Best Art Direction for The Day of the Locust (1975) and Best Production Design for The Addams Family (1991).
EDWARD S. STEPHENSON (1917 - 2011)
Edward S. Stephenson was a television producer, production designer and art director for nearly 50 years in Hollywood. Stephenson moved from Iowa at a young age to California, where he graduated from the Pasadena Playhouse College of the Theatre. Working as a director, art director and producer for various playhouses and theatres through the U.S. during the 1930s and 40s, Stephenson then joined the U.S. Air Force during WWII where he later accepted a position in the special staff section as the civilian Director of Entertainment and Music for the Commander in Chief, Far East and Supreme Commander, Allied Powers. After leaving the military he found work in Hollywood feature films and TV. He was hired on the spot by NBC Television where he won his first Primetime Emmy® for Best Art Direction in a Live Television Program in 1959 for An Evening with Fred Astaire (1958). Stephenson went on to win two more Primetime Emmys®, for Outstanding Variety Series for The Andy Williams Show (1962) and Outstanding Art Direction for a Comedy Series for Soap (1977), and was nominated for additional Emmys® for The Danny Kaye Show in 1963 and The Golden Girls in 1986.
Media sponsors are The Hollywood Reporter, Daily Variety, and Shoot.
About the Art Directors Guild:
The Art Directors Guild (IATSE Local 800) represents nearly 2,000 members who work throughout the United States, Canada and the rest of the world in film, television and theater as Production Designers, Art Directors, and Assistant Art Directors; Scenic, Title and Graphic Artists; Illustrators and Matte Artists; and Set Designers and Model Makers. Established in 1937, ADG's ongoing activities include a Film Society; an annual Awards Banquet, a creative/technology community (5D | The Future of Immersive Design) and Membership Directory; a bimonthly craft magazine (Perspective); and extensive technology-training programs, creative workshops and craft and art exhibitions. The Guild's Online Directory/Website Resource is at http://www.adg.org. Follow ADG on Twitter: @ADG800
About the BMW Group:
The BMW Group is one of the most successful manufacturers of automobiles and motorcycles in the world with its BMW, MINI, Husqvarna Motorcycles and Rolls-Royce brands. As a global company, the BMW Group operates 29 production and assembly facilities in 14 countries and has a global sales network in more than 140 countries.
In 2011, the BMW Group sold about 1.67 million cars and more than 113,000 motorcycles worldwide. The profit before tax for the financial year 2011 was euro 7.38 billion on revenues amounting to euro 68.82 billion. At 31 December 2011, the BMW Group had a workforce of approximately 100,000 employees.
The success of the BMW Group has always been built on long-term thinking and responsible action. The company has therefore established ecological and social sustainability throughout the value chain, comprehensive product responsibility and a clear commitment to conserving resources as an integral part of its strategy. As a result of its efforts, the BMW Group has been ranked industry leader in the Dow Jones Sustainability Indexes for the last eight years.
http://www.bmwgroup.com
Facebook: http://www.facebook.com/BMWGroup
Twitter: http://twitter.com/BMWGroup
YouTube: http://www.youtube.com/BMWGroupview
Google+: http://googleplus.bmwgroup.com
###
NOTE TO MEDIA: A composite photo of the three inductees is available electronically by contacting Paige Guritzky at paige(at)publicity4all.com.
PRESS CONTACTS:
Weissman Markovitz Communications
Lindajo Loftus, Cheri Warner
Tel: 818.760.8995, Fax: 818.760.4847
Lindajo(at)publicity4all.com, Cheri(at)publicity4all.com