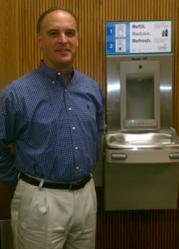 Columbus, OH (PRWEB) November 08, 2012
OASIS International, manufacturer and distributor of water dispensing and filtration solutions, announces Chris Spencer as its new National Accounts Manager.
Chris has substantial expertise and demonstrated success in a variety of disciplines, and brings valuable experience in sales, marketing and training to OASIS. With over 15 years experience in both B2B and B2C sales, he is well-suited to build the OASIS brand in existing and new territories. Prior to joining OASIS, Chris spent several years growing sales for Electrolux and the Kohler Company. Chris' combination of skills and insight will be especially beneficial as OASIS expands its product line of water solutions for business and home applications.
As the demand for high-quality, sustainable water solutions continues to grow, OASIS continues to invest in resources to develop quality products and innovative solutions that enable clean, safe, usable water for businesses and homes world-wide.
About OASIS International
OASIS International, headquartered in Columbus, Ohio, with facilities in Mexico, Ireland and Poland, manufactures and distributes a wide range of water dispensing and water management solutions under the OASIS® and Sunroc® brands. It's our mission and our passion to develop sustainable, durable, technologically advanced, water and water filtration products that provide long-term value. For information about our company and our products, please visit http://www.oasiscoolers.com.