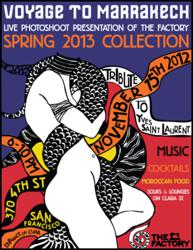 San Francisco, CA (PRWEB) November 09, 2012
Jennifer Evans of The Factory by The Evans Group will host an amazing party to launch The Factory's Spring 2013 collection inspired by the glamourous 1970's lifestyle of Yves St. Laurent in Marrakech on Thursday November 15th at 6pm PT.
Jennifer recently traveled on her bi-annual voyage to Morocco and was overwhelmed with inspiration for The Factory's newest collection when she shopped the Marrakech souks for traditional textiles, and vistited the Jardin de Majorelle, the estate of Yves St. Laurent. Her love of 70's Yves St. Laurent designs motivated the creation of this beautiful collection.
To celebrate the Spring 2013 collection and the inspiration behind it, The Factory will overtake Clara Street, which houses the SoMa district boutique. The street will be transformed into a Marrakech nightime market place complete with Moroccan tents provided by Raj Tents, setup as souks and thematic lounges. Highlighting the mystical ambiance that Jennifer experienced on her travels, there will be lanterns strung throughout, a Moroccan foodtruck, a fortune teller, and a craftsman on-site sewing customized clutches. We are also thrilled to have Sun Liquor of Seattle mixing a custom cocktail for the evening featuring their artisan gin.
Meanwhile inside The Factory the new collection will be showcased in a photoshoot consisting of four vignettes of live models bringing to life iconic YSL photographs that will change throughout the evening. Please take a moment to visit The Factory tumblr site at http://thefactoryvoyage.tumblr.com/ to see more of the design inspiration and the journey surrounding it.