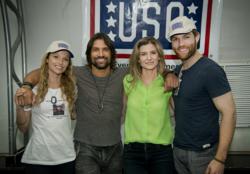 I know I speak for us all when I say 'thank you' to the men and women of the U.S. Armed Forces for keeping us safe and for all that you do.- Liam McIntyre
Arlington, Va. (PRWEB) November 07, 2012
Twitter Pitch: Cast members from @spartacus_starz deliver touch of home to troops in Middle East on @the_USO tour
When four cast members from the STARZ hit series "Spartacus" visited troops serving in the Middle East, sparks were sure to fly. As part of their first USO/Armed Forces Entertainment tour, the warrior actors from "Spartacus" heard first-hand about military life from real-life warriors - our nation's men and women in uniform. In addition to spending some one-on-one time with troops, the ensemble of actors delivered a much-needed break to our men and women in uniform.
DETAILS:

So far, the actors have visited six installations in Kuwait, including visits to troops serving at Camp Virginia, Camp Beuhring and Camp Arifjan. Additionally, the band of actors touched the lives of more than 1,600 service men and women serving overseas.
Australian born Liam McIntyre, who plays the role of 'Spartacus,' enjoys a diverse career in both television and theater. He made his U.S. television debut as 'Bell Captain Lew' in the Emmy and Golden Globe nominated HBO series "The Pacific." Additionally, his theater credits include productions of Shakespeare classics such as "Much Ado About Nothing" and "Twelfth Night" as well as the award-winning independent production "Macbeth: Rearisen."
Manu Bennett, who plays 'Crixus,' began his acting career in his homeland of New Zealand. His U.S. television credits include "Xena: Warrior Princess," as well as roles in big screen features such as "30 Days of Night" and "The Condemned." Fans can look forward to seeing Bennett in Peter Jackson's highly anticipated trilogy "The Hobbit."
Ellen Hollman, who portrays 'Saxa," is a Los Angeles-based actress. Her film career includes big screen thrillers such as "Asylum" and feature films like "Road House 2: Last Call" and "Surf School," to name a few. In addition to "Spartacus," Hollman has appeared in television series such as "Rules of Engagement," "Numb3rs," "The O.C.," and "Weeds."
Since graduating from the Western Australia Academy of Performing Arts, where she earned the award of best actress, Viva Bianca has made her way to the big and small screens as well as the theater stage. Bianca's portrayal of "Ilithyia," as well as her roles in the psychological thriller "Bad Bush" and the comedy "Accidents Happen," starring Geena Davis, are included among her many television and film credits.
The cast is excited about the upcoming final season, "Spartacus: War of the Damned," which will premiere in the US on the STRAZ television network on Friday, January 25th, 2013.
QUOTE:
Attributed to Liam McIntyre:
"This trip has been amazing for all of us. The men and women we met, who put their lives on the line everyday, are an amazing group of people. Being able to share my first USO tour experience with my cast mates makes it even more memorable. I know I speak for us all when I say 'thank you' to the men and women of the U.S. Armed Forces for keeping us safe and for all that you do."
MULTIMEDIA:
USO Tour Photos: http://bit.ly/QWxkmI
USO Fact Sheet: http://bitly.com/SNzF4R
USO Logo: https://uso.box.net/shared/6q5cq0siij
AFE Logo: http://bit.ly/bCGwld
# # #
About the USO
The USO (United Service Organizations) lifts the spirits of America's troops and their families millions of times each year at hundreds of places worldwide. We provide a touch of home through centers at airports and military bases in the U.S. and abroad, top quality entertainment and innovative programs and services. We also provide critical support to those who need us most, including forward-deployed troops, military families, wounded warriors and their families and the families of the fallen.
The USO is a private, nonprofit organization, not a government agency. All of our programs and services are made possible by the American people, support of our corporate partners and the dedication of our volunteers and staff. In addition to individual donors and corporate sponsors, the USO is supported by President's Circle Partners: American Airlines, AT&T, Clear Channel, The Coca-Cola Company, jcpenney, Kangaroo Express, Kroger, Lowe's, Northrop Grumman Corporation, Procter & Gamble, and TriWest Healthcare Alliance and Worldwide Strategic Partners: BAE Systems, The Boeing Company, Lockheed Martin, Microsoft Corporation and TKS Telepost Kabel-Service Kaiserslautern GmbH & Co. KG. We are also supported through the United Way and Combined Federal Campaign (CFC-11381). To join us in this patriotic mission, and to learn more about the USO, please visit uso.org.