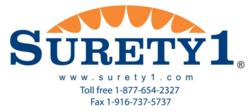 It has never been easier to apply for and obtain Arizona mortgage brokers and mortgage bankers surety bonds than it is now, thanks to the technology offered by Surety1
Sacramento, CA (PRWEB) November 08, 2012
Surety Solutions Insurance Services, Inc (Surety1) has added both Arizona Mortgage Brokers and Mortgage Bankers to its easy to use online web application portal. Now companies seeking either of these bonds can apply in minutes and receive a firm quote the same day, even with less than perfect credit.
Surety1 continues to add more bonds to its industry leading, online application portal. It has never been easier to apply for and obtain Arizona mortgage brokers and mortgage bankers surety bonds than it is now, thanks to the technology offered by Surety1.
A Mortgage Banker Surety bond is required of any person who for compensation or gain, or in the expectation of compensation or gain, directly or indirectly makes, issues commitments, negotiates, places, assists in placement, finds or offers to negotiate, place, assist in placement or find mortgage loans on Arizona commercial property for others The surety bond requirement is either $100,000, if the Mortgage Banker uses non-institutional investors and $25,000 if not. For Mortgage Brokers the required bond amount is $15,000 if the mortgage broker uses any investors that are not institutional investors and $10,000 if not. Regardless of the type of bond, Surety1 can get your bond approved the same day applied for at the lowest rates availible, even with less than perfect credit*
Surety Solutions Insurance Services, Inc. is an independent insurance agency based in Rancho Cordova, California and licensed in all fifty states. Surety Solutions Insurance Services, Inc. specializes in the placement of surety bonds and other specialty insurance products. Contact Surety Solutions through its website, http://www.surety1.com, by calling toll-free, 877-654-2327, or by emailing info(at)surety1.com.
*Subject to underwriting approval