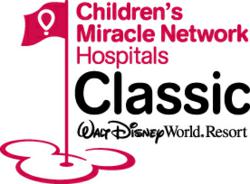 Salt Lake City, UT (PRWEB) November 08, 2012
Professional golfers and 17-year-old Miracle Child, Chandler Fullman, are gathered for the final stop on the 2012 PGA TOUR: the Children's Miracle Network Hospitals Classic, Nov. 8-11, at the Palm and Magnolia Golf Courses at Walt Disney World Resort near Orlando, Fla. The Golf Channel will televise the event for the sixth consecutive year, with live coverage airing each day.
The 2012 Classic Miracle Child represents millions of kids treated annually by Children's Miracle Network Hospitals, a charity that raises funds and awareness for 170 nonprofit children's hospitals. Opening day of the Classic marks the two-year anniversary of Chandler Fullman's return home after a two-month stay at Children's of Alabama, his Children's Miracle Network Hospital. A sudden, massive brain bleed the day of his golf team tryouts nearly took his life and required Fullman to relearn everyday activities including walking and talking, but time on the course helped him regain confidence, strength and peace as he worked towards a miraculous recovery. He will be playing in the Classic Pro-Am alongside professional athletes and top PGA TOUR Players.
The 2012 Classic winner will also earn a $25,000 donation for the Children's Miracle Network Hospital in their community. True to the charity's fundraising model, the benefitting member hospital will be able to use the donation however it's needed most. Funds typically go towards life-saving equipment, research, therapy programs or charitable care.
Tickets for individual rounds ($20), badges for Classic week ($30) are available at CMNHospitalsClassic.com or through ticketmaster.com. Proceeds benefit Children's Miracle Network Hospitals, including the Arnold Palmer Hospital for Children and Winnie Palmer Hospital for Women & Babies in Orlando, and Shands Children's Hospital in Gainesville.
###
About Children's Miracle Network Hospitals
Children's Miracle Network Hospitals® raises funds for 170 children's hospitals across the United States and Canada, which, in turn, use the money where it's needed the most. When a donation is given it stays in the community, helping local kids. Since 1983, Children's Miracle Network Hospitals has raised more than $4 billion, most of it $1 at a time. These donations have gone to support research and training, purchase equipment, and pay for uncompensated care, all in support of the mission to save and improve the lives of as many children as possible. Learn more at CMNHospitals.org.