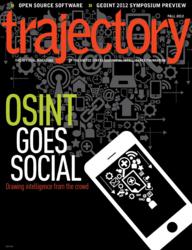 The award represents a successful collaboration between two organizations that are mutually aligned in vision and purpose
Herndon, VA (PRWEB) November 08, 2012
The United States Geospatial Intelligence Foundation (USGIF) is pleased to announce its Gold award in the category of Strategy: Best New Launch or Relaunch for its custom content program: trajectory magazine. Gold is the highest award in the category, and trajectory bested four other finalists for the honor.
The award was presented November 5 to USGIF's partner GLC at the Custom Content Council's 10th annual Pearl Awards celebration at the Liberty Theatre in New York City. The Custom Content Council is the leading association for the custom publishing industry in the United States, and is focused on promoting the growth and vitality of this dynamic marketing discipline.
"This is a wonderful honor for trajectory, USGIF, and GLC," said Jordan Fuhr, who is the USGIF Director of Marketing and Strategic Communications as well as the Executive Editor of trajectory. "Our entire team has put a ton of effort into creating the best possible magazine for our community, and we are very proud of it."
Trajectory provides high-level thought leadership for members of USGIF and the overall intelligence, defense, and homeland security communities. At its core, trajectory focuses on the future of geospatial intelligence, but its broader goal is to be the pre-eminent resource on issues of significance to the greater GEOINT Community.
In 2012, USGIF tapped GLC Custom Media, a Northbrook, IL based agency, as its partner for the trajectory project. The program includes a bi-monthly print publication, a complementary magazine website, an e-newsletter, and tablet applications for both the iPad and Android.
"The award represents a successful collaboration between two organizations that are mutually aligned in vision and purpose," says Joe Stella, GLC's VP of Business Development. "We aren't afraid to challenge each other, we always put the reader first, and we're eager to explore what role technology and evolving channels of communication will play in our overall content strategy today and into the future."
The Pearl Awards recognize excellence in custom media in the areas of design, editorial, and strategic initiatives in print and digital. Winners were selected from more than 628 entries. Submissions included magazines, newsletters, websites, blogs, apps and videos, published for clients from a wide range of industries: tourism, travel, technology, automotive, health, retail and many more. Over 30 judges assembled in New York, Washington D.C. and San Francisco to judge all 628 entries.
USGIF was in good company with other Pearl Award winners. Other categories recognized recipients including American Express Publishing, Four Seasons Hotels and Resorts, Golf Digest, Merrill Lynch, Verizon, and The Economist, BMW, and many more.
About USGIF
USGIF is a non-profit educational foundation dedicated to promoting the geospatial intelligence tradecraft and developing a stronger GEOINT Community with government, industry, academia, professional organizations and individuals whose mission is the development and application of geospatial intelligence to address national security challenges. For more information, please visit http://www.USGIF.org
About GLC
Established in 1969, GLC Custom Media is a content marketing partner that provides print, digital, mobile and social solutions for clients in the association, healthcare, and corporate markets. Specializing in strategic communications, GLC helps clients engage audiences by delivering media programs tailored to meet specific and measurable business goals and objectives. http://www.glcomm.com