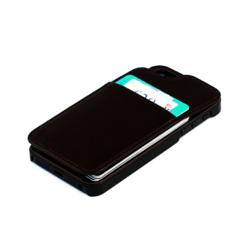 12 months, 8 prototypes and 1 patent application later, I finally got what I wanted
(PRWEB) November 19, 2012
Lexx 2 is the new and enhanced design of the successful wallet case for iPhone 4.
The key features include:

Easier access to cards
Powerful magnet securing cards compartment
Premium grade leather
Ergonomic design with open screen
Perfect Christmas present for that special someone who values style and simplicity!
For a limited time only, Vaultskin is offering 30% OFF to those who post a comment on its Facebook wall.
Simplify your life, find out more at Vaultskin.com
About Vaultskin
Alexia, founder of Vaultskin:
"I'm one of those people who like carrying as few things as possible and try to keep my important day to day stuff in one place. I can't count how many times I've left my phone and wallet in a wrong jacket.
Since I got my first iPhone, I always dreamt of combining it with my wallet, but all the available options were either impractical, thick, clumsy or not pretty to look at... until one day I decided to try to make it myself.
Being an architect I've always enjoyed product design and I was happy to spend nights building prototypes of my ideal case. 12 months, 8 prototypes and 1 patent application later, I finally got what I wanted.
My friends and family who first became proud owners of my early designs of the Lexx case persuaded me to commercialise it. I hope you will love the Lexx case just as much as I do. I'm very keen to hear your feedback to help me improve my designs further".