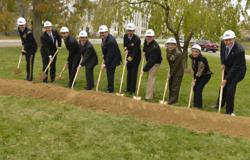 Bethesda, MD (PRWEB) November 07, 2012
The USO along with senior military officials, state leaders and supporters broke ground today on the USO Warrior and Family Center at Bethesda. The state-of-the-art center to be located at the Walter Reed National Military Medical Center will provide troops battling visible wounds of war critical, non-medical support, as well as a home away from home during recovery, so that they may heal with honor. The USO Warrior and Family Center will also provide support and programs designed to help families and caregivers.
"The USO family is coming together today to do something very special," said USO President and CEO Sloan Gibson. "More than just breaking ground, we are building hope here -- hope for our healing heroes and for their families. More than just bricks and mortar, it will be a place of healing, a place of refuge, a place of respite and a place where futures are planned and where they are launched. This center will deliver the caring embrace of a caring nation, helping generations of wounded, ill and injured men and women and their families take that first step back toward home."
Wounded, ill and injured troops and their families frequently face many difficult challenges during the recovery and transition process. Remaining positive and optimistic can be a constant challenge, made worse by the uncertainty surrounding physical limitations, lack of knowledge about potential career opportunities and concern about stresses on their families. Families also face the physical and emotional stresses that accompany caring for a severely injured loved.
The goal of the new USO Warrior and Family Center will be to ease those stresses through programs and support services. At over 16,000 square feet, the building will feature classrooms, a business center, healing garden, fireside lounge, and a music room. The USO center will provide a central gathering place to enhance the most important non-clinical needs of the patients and their families. The Warrior and Family Center at Bethesda is strategically located adjacent to the wounded warrior barracks,known as Tranquility Hall, making it more convenient for wounded, ill and injured troops and their families to get support during their recovery process.
Assistant Secretary of the Navy, The Honorable Juan M. Garcia III, reflected on the importance of the entire nation supporting our troops as they return home from battle and face the often daunting task of reintegration.
"It's good to know that the most important issues transcend politics," said Garcia. "A few hours after election day, Americans of every political stripe can join together to focus on the most important issues of our time- I think the defining issue of our generation- the reintegration of wounded warriors."
Just a day after his own re-election in Maryland's 8th congressional district, Rep. Chris Van Hollen (D-MD), shared his thoughts on the significance of the newest USO Warrior and Family Care Center at Walter Reed in Bethesda.
"Many of the awe inspiring moments I have had as a member of Congress is when I've been able to meet with many of our wounded warriors, to speak with them and their families and just to see their indomitable spirit and their incredible sense of patriotism and love of country," said Van Hollen. "It is something that gives us all faith that this country will continue to be the world's leader in a great nation. It's really important that we have a national center that is dedicated to making sure that a grateful nation can provide these men and women, our wounded warriors, with the very best care that we can provide."
The USO is uniquely positioned to establish a first-class support network for our nation's healing heroes. The ground breaking of the USO Warrior and Family Center at Bethesda comes approximately 90 days before the grand opening of the USO's Warrior and Family Center at Ft. Belvoir which will support troops battling invisible wounds of war. Both Centers are being funded through Operation Enduring Care (OEC), the USO's largest initiative ever and one that will deliver the resources needed to support our nation's wounded, ill and inured troops, their families and caregivers, through the recovery process.
Elaine Rogers, President, USO of Metropolitan Washington– whose staff will be solely responsible for staffing and managing the day-to-day operations for both the Warrior and Family Care Centers at Walter Reed in Bethesda and Fort Belvoir– has been a constant face for troops serving in the Washington DC area for more than 30 years. Pledging that USO Metropolitan of Washington will be there for our troops whenever and however they are needed, Rogers added none of it would be possible without the support of the American people.
"The American people really do care. They want to do something and I can say that's true because at Ft. Belvoir, we advertised that we needed volunteers for Ft. Belvoir and within one week we had 200 volunteers signed up and ready to go to training, so I know we're going to have great success here also."
In addition to thanking the American public, Ed Reilly, Co-Chair of the USO Operation Enduring Care campaign, acknowledged several key supporters of the new centers, including the Northrop Grumman Foundation, Coca Cola, Anschutz Foundation, CharityWorks, jcpenney, The Timken Group and Charlie Sheen.
Both USO Warrior and Family Centers are scheduled to open in 2013.
For additional information and photos and video from the event: https://uso.box.com/s/9dln501r82q2434ubrwx
About the USO
The USO (United Service Organizations) lifts the spirits of America's troops and their families millions of times each year at hundreds of places worldwide. We provide a touch of home through centers at airports and military bases in the U.S. and abroad, top quality entertainment and innovative programs and services. We also provide critical support to those who need us most, including forward-deployed troops, military families, wounded warriors and their families and the families of the fallen.
The USO is a private, nonprofit organization, not a government agency. All of our programs and services are made possible by the American people, support of our corporate partners and the dedication of our volunteers and staff. In addition to individual donors and corporate sponsors, the USO is supported by President's Circle Partners: American Airlines, AT&T, Clear Channel, The Coca-Cola Company, jcpenney, Kangaroo Express, Kroger, Lowe's, Northrop Grumman Corporation, Procter & Gamble, and TriWest Healthcare Alliance and Worldwide Strategic Partners: BAE Systems, The Boeing Company, Lockheed Martin, Microsoft Corporation and TKS Telepost Kabel-Service Kaiserslautern GmbH & Co. KG. We are also supported through the United Way and Combined Federal Campaign (CFC-11381). To join us in this patriotic mission, and to learn more about the USO, please visit uso.org.