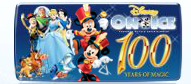 We were delighted for the opportunity to participate in this event and showcase our passion for all things culinary. Our three competing members can't wait to roll up their sleeves and get car
Salt Lake City, UT (PRWEB) November 12, 2012
Salt Lake Community College Culinary Club students will participate in an ice carving demonstration as part of the 'Disney On Ice celebrates 100 Years of Magic' event. The demonstration will be held on Wednesday, November 14th at the Gateway Shopping Center's Olympic Legacy Plaza from 10:30 to 11:30 a.m. The students will carve Disney characters at the event, and the iconic characters—such as Mickey Mouse, Donald Duck and Disney's princesses—will make special appearances at the demonstration.
"We were delighted for the opportunity to participate in this event and showcase our passion for all things culinary," said Stephanie Callison Tanner, SLCC Culinary Club President. "Our three competing members can't wait to roll up their sleeves and get carving."
The three carvers include SLCC Culinary Program students Gary Manoukian, 36, Oscar Villalobos, 25, and Jerry DeStafano, 29. All three chose to partake in the demonstration to enhance their artistic skills and learn new techniques for ice carving. When asked why he entered the carving demo, Villalobos said, "Ice and a chainsaw, what could be more fun?"
The carving event is a kick-off for the opening night performance of 'Disney On Ice celebrates 100 Years of Magic', which will take place on the evening of November 14 at 7:00 p.m. at EnergySolutions Arena in Salt Lake City.
About the College:
Salt Lake Community College is an accredited, student-focused, urban college meeting the diverse needs of the Salt Lake community. Home to more than 62,000 students each year, the College is the largest supplier of workforce development programs in the State of Utah. The College is the sole provider of applied technology courses in the Salt Lake area, with 13 sites, an eCampus, and nearly 1,000 continuing education sites located throughout the Salt Lake valley. Personal attention from an excellent faculty is paramount at the College, which maintains a student-to-teacher ratio of less than 20 to 1.
About the SLCC Culinary Club:
Founded in 2012, the SLCC Culinary Club has 88 members with new participants enrolling regularly. The club spans all ages, experienced and novice, and presents members with opportunities to assist and participate in various types of culinary events and activities. Club President, Stephanie Callison Tanner, along with six officers, plan and execute monthly activities. Club members express their passion for food and cooking as a means of breaking cultural and physical barriers.
About the Carvers:
Gary Manoukian was born in Beirut, Lebanon during a civil war. His parents fled to France, then to Canada (Niagara Falls) before moving to Utah. He decided to take his passion for food and cooking to a professional level. As a sophomore with a 4.0 grade-point average he is serious about school and his profession, yet he always finds time to laugh and joke. When Gary was asked what he plans on doing after graduation he replied, "Cooking my way to the top." He made his first triple layer sandwich at the age of 7 for his mother when she was sick, accompanied with chips, drink, and a horrible mess in the kitchen. Gary is quoted as saying "Food is my pallet, herbs my medium, and the plate my canvas." Gary's favorite motto is "Live, love and eat." He wanted to enter this competition to test his skills as an artist. When asked, where do you see yourself in ten years, his reply was "On television with my own cooking program."
Oscar Villalobos is a student originally from Chacchi, Mexico who has lived In Texas most of his life. He came to Utah a few years ago and began a degree in Microbiology but later discovered that food arts were his passion. He has been attending the SLCC Culinary Program for the past few years. Oscar loves desserts, and says that his favorite dessert is crème brule. The first dish that he remembers making was "Mac & Cheese with a sour cream mix". After graduating from the College, Oscar would like to earn experience in the industry as an apprentice for a well-known chef. When asked why he entered the carving demo, he said "Ice and a chainsaw, what could be more fun?" His goal in10 years is to own a restaurant and to serve as a mentor to someone who wants to get into the industry.
Jerry DeStafano is a student from Verona, NJ. He came here because he loves the outdoors and the Wasatch Mountains. He has a Bachelor's degree in business and began the culinary program at SLCC summer of 2012. After graduation he would like to work at a ski resort cooking for the time being. Jerry's favorite food is Italian food but more specifically "stuffed shells with ricotta cheese and tomato sauce. He remembers the first dish that he made as being crème brule. He chose to be in the ice-carving demo to gain experience and have fun. His goal in 10 years is to own a bed & breakfast, give tours and guiding hikes the mountains.
# # #