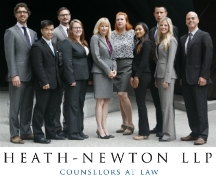 Congratulations! If you're considering consulting with a California prenuptial agreement attorney, good things must be happening in your life and we're very happy for you
San Francisco, CA (PRWEB) November 08, 2012
Heath Newton Counselors at Law extends its accolades for being on the right path in San Francisco family law – the path of information gathering. Many people enter marriage (which is a legal contract) without realizing that when the ceremony is over, they legally accept California's Family Code as their own default prenup – unless they opt out.
An attorney should let their client know what the law is, what theirr choices are, and the implication of both. Maybe the client wants to change how the Family Code applies to their marriage – and maybe they don't. It's always wise to make informed decisions, and this process can only strengthen the marriage in the future.
"Congratulations! If you're considering consulting with a California prenuptial agreement attorney, good things must be happening in your life and we're very happy for you," said Felix Chen, marketing coordinator of Heath Newton LLP. "We would like to get your marriage started on the right path and avoid as many conflicts down the line as possible."
Heath Newton Counselors at Law is sharing the top three qualities of a qualified prenuptial agreement attorney. When a premarital couples interviews potential lawyers, look for the lawyer who stands out by:

Be sure the attorney focuses his or her legal practice on family law and has extensive experience negotiating and drafting prenuptial agreements. New attorneys and attorneys in unrelated legal fields sometimes tackle premarital agreements without knowing what they're getting themselves into. The law is tricky, and the emotions are complex – an unpracticed attorney can do much more harm than good. You're better off finding someone who handles these issues every day.
As an aside, your attorney may use the term, "premarital agreement", and that's okay – the term is commonly used in California and means the same thing as "prenuptial agreement".

Understanding Your Personal Objectives.
Be sure your prenuptial agreement attorney really listens to and understands your personal objectives.
Premarital agreements are not a one-size-fits-all and can be as creative as you want. Overly-aggressive attorneys sometimes create overly-aggressive agreements, and that can result in an angry fiancé. Be sure your attorney includes only what you want to include in your agreement, but knows how to guide you to think of clauses you might not have otherwise considered.
A good family lawyer listens to what you want and asks you questions to direct your thinking; he or she doesn't try to tell you what you want or try to make you fit in a tiny box, saying, "This is the way everyone does it".

The best prenup lawyers will work collaboratively with your fiancé's attorney. Designing a premarital agreement works best when it's a collaborative conversation, not an adversarial competition. Think of this process as a way for you and your fiancé to discuss difficult issues that will eventually arise. Your attorney should be able to help you consider these issues from every angle, and remind you of issues you had not considered.
To learn how California community property and marital law apply to your individual situation or if you want to learn more about prenuptial agreements, we invite you to consult with one of our qualified family law attorneys. Email info(at)heathnewton(dot)com or call (415) 398-1290. We look forward to hearing from you and, again, congratulations on your pending marriage – we wish you, and the person you love, a happy future.
About Heath Newton LLP:
Heath-Newton LLP specializes in family law, asset protection and estate planning services. Based in San Francisco, their boutique firm has earned a reputation for managing their clients' cases well, reaching successful resolutions — and minimizing costs and disruption to their clients' lives.
They have handled a long list of family-law cases, including a broad range of issues facing new families (such as domestic partnerships, premarital agreements, adoption and more), as well as divorce, asset division, child custody and child and spouse support. They also have extensive experience in San Francisco estate planning, wills, probate, mediation, living wills and trusts.
Collectively, their attorneys have thousands of hours of experience, allowing them to be both efficient and effective. They are guided by a practical approach that emphasizes avoiding litigation to minimize costs and disruption; however, they can and will be fierce litigators when all other strategies have proven ineffective. For more information visit their website at http://www.heathnewton.com. To discuss a situation with one of their attorneys, please call them at (415) 398-1290.