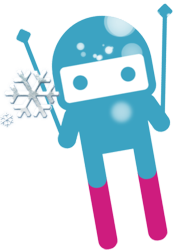 School Holidays are the busiest times of year for us
Auckland (PRWEB) November 12, 2012
Snowplanet, New Zealand's only indoor ski and snowboard resort has enjoyed a busy school holiday period over the last two weeks. Based in Auckland, Snowplanet is perfect for kids to come and enjoy the snow during the school holidays.
"We offer a range of school holiday programmes perfect for kids of all ages" says Heather Reid, Function Centre Manager at Snowplanet. "Snowplanet's School Holiday Programmes offer a great environment for children aged 5-14 years to learn and progress in the world of snow sports." Throughout the five day programme, the children are separated into groups depending on their age, skill level and choice of skiing (from 5 years old) or snowboarding (from 8 years old), to be instructed by Snowplanet's highly qualified Ski and Board school instructors to advance their snow sports skills.
"School Holidays are the busiest times of year for us, and we are coming to the end of the last holidays before Christmas now" says Reid. "The summer holidays are coming up, and we are expecting an even busier season during that time". Kids school holiday programmes are a great way to keep the kids entertained during the school holidays, as well as teach them something new. "Our instructors are highly qualified in both skiing and snowboarding, and can help children pick up, and hone their skills"
Snowplanet also offer After School Programmes during school terms, to introduce children to snowsports. This weekly term programme is available for children aged 3 and older wanting to learn the art of skiing and snowboarding. "Our after school programmes are hugely successful, and are a great way to get kids involved in snow sports" says Reid. "We give them everything they need to get up and running including helmets and other snow gear. They'll be zipping down the slopes in no time!"
About Snowplanet
At Snowplanet you can ski, snowboard, tube, toboggan, and dine at their world class facility. Their slope is 200m long and includes a Terrain Park with jumps & rails plus a ski line and beginner's area. If you love Snow Sports, or want to learn, Snowplanet is the place for you!
Snowplanet offer a number of additional services; rental equipment and clothing, instruction, coaching, and the Snowplanet Restaurant & Bar. Snowplanet is ideal for a day out with the family, with work mates, and for a school outing, or just a great place to hang out and have fun.
Life's more fun on Snowplanet.