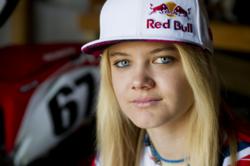 The DRLC recognizes this year's brilliant pioneers and visionaries who have made fundamental and profound contributions toward meaningful public recognition of, and civil justice for, people with disabilities. -- Paula Pearlman, Esq., Executive Director
LOS ANGELES, CA (PRWEB) November 08, 2012
The Disability Rights Legal Center (DRLC) whose mission is to champion the rights of people with disabilities through education, advocacy and litigation, holds its annual Franklin D. Roosevelt Dinner on Thursday, November 15, 2012 at the Omni Hotel, 251 South Olive Street in Los Angeles beginning at 5 pm. Hosted by actor Kurt Yaeger ("Sons of Anarchy"), a below-the-knee amputee, this year's fundraiser honors distinguished network television programming, cancer rights legal advocates and an action sports athlete for outstanding efforts toward promotion of rights of people with disabilities.
With support from the Franklin D. Roosevelt family, the DRLC acknowledges the personal role that the 32nd President played in the history of disability rights in America. All proceeds benefit the Disability Rights Legal Center. To purchase individual tickets ($300) or table that includes 10 seats ($3,000-$10,000), tribute book advertising or to find out more go to http://www.disabilityrightslegalcenter.org.
"The DRLC recognizes this year's brilliant pioneers and visionaries who have made fundamental and profound contributions toward meaningful public recognition of, and civil justice for, people with disabilities, states Paula Pearlman, Esq., Executive Director, Disability Rights Legal Center. "We continue to be honored to work with such devoted individuals who change the world and influence attitudes in spite of formidable barriers."
This year's DRLC DREAM Award (Disability Rights in Entertainment, Arts & Media) recognizes the television series, "90210" for its authentic, multi-layered storyline involving a woman who tests positive for a breast cancer (BRCA) gene. "One of our programs, the Cancer Legal Resource Center (CLRC) , a joint program of the DRLC and Loyola Law School, Los Angeles deals with multiple legal challenges people with cancer face, including genetic discrimination," says DRLC Executive Director Paula Pearlman. A story arc on "90210" presented genuine problems that women must deal with, including repercussions from testing positive for a cancer mutation; genetic discrimination is an issue deeply important to the disability community.
"Genetic discrimination that a cancer diagnosis can bring is a serious issue and we are grateful to be in a position to create public awareness through a television show," says Co-Executive Producer Patti Carr, who accepts the award on behalf of "90210." "One of our characters, who was chosen to test positive for the BRCA gene, set off a complex set of emotions. We are honored to receive the DRLC's prestigious recognition for our work." "90210" is produced by CBS Television Studios and airs on the CW Network, a joint venture between Warner Bros. Entertainment and CBS Corporation. "90210" executive producers are Patti Carr and Lara Olsen.
The DRLC's inaugural Disability Rights in Sports Award recognizes Ashley Fiolek, deaf since birth, and two time X Game gold medalist for women's motocross. Fiolek is the first person in the deaf community to compete professionally in motocross and works diligently to change the face of disability.
Fiolek, who is sponsored by Red Bull and appears in a commercial for the energy drink, has been racing since the age of seven. "Although I was born profoundly deaf I have never let that slow me down. I've toured the nation giving inspirational speeches to young students who are deaf to try and motivate them and prove they can do anything," says Fiolek. In 2012, she was the first deaf person interviewed by TBS talk show host Conan O'Brien, and was also featured in an issue of Vogue as well as a four-episode appearance on the ABC Family drama, "Switched at Birth."
This year's DRLC Cancer Vanguard Award acknowledges two individuals for their commitment to the cancer community through increasing awareness, advocating for change, providing support and giving hope. Robert A. Cooney and Barbara Ullman Schwerin are two such influential trailblazers who are honored at the DRLC's 2012 Franklin D. Roosevelt Dinner.
Robert A. Cooney is the former Associate Dean of Business Affairs at Loyola Law School, Los Angeles, who created and produced the annual "Bob Cooney Golf Tournament" which has raised over $160,000 to help the Cancer Legal Resource Center continue its mission to provide invaluable legal education and outreach programs to people coping with cancer and their families.
In 1997, Barbara Ullman Schwerin became the Founding Director of the DRLC's Cancer Legal Resource Center (CLRC) where she oversaw the program and acted as an adjunct professor, teaching a Cancer Rights Law seminar to Loyola Law School, Los Angeles students. Under Schwerin's leadership, CLRC partnered with the California Division of the American Cancer Society to expand the Center's services throughout California. Schwerin initiated the crucial essential CLRC national toll free telephone assistance line (866-THE-CLRC) whereby any caller from across the nation may access the program's services.
VIP guests include PUSH GIRLS from the new original non-fiction series currently airing on the Sundance Channel. Munger, Tolles & Olson, LLP underwrites the evening in beloved memory of Charles D. Siegal. Recent past DRLC award recipients include the corporations NBCUniversal, Starbucks, Verizon Wireless and Ticketmaster, the United States Senator Tom Harkin, and entertainers Nick Jonas, actors Fran Drescher and John Lithgow.
ABOUT THE DISABILITY RIGHTS LEGAL CENTER: Founded in 1975 by friends and colleagues of A. Milton Miller, one of the leading advocates of the disability rights movement in California, the DRLC continues to ensure compliance and has championed the rights of tens of thousands of people with disabilities through education, advocacy and litigation. The Center is part of the Public Interest Law Center of Loyola Law School, Los Angeles. The DRLC is a national nonprofit law center that specializes in civil rights cases on behalf of persons with disabilities. The DRLC seeks to promote change primarily in government agencies and other institutions by establishing precedent-setting court cases and by educating the disability, business, government, education, cancer and legal communities to avoid common issues that result in discrimination. The DRLC trains local governments, people with disabilities and has close working relationships with disability commissions and grassroots disability organizations. The DRLC partners with other public interest law offices and private law firms to litigate systemic issues and legislative advocacy efforts. Since its beginning, the Center has reached well over a million individuals through its community outreach and training events.
Interviews and photos available upon request.