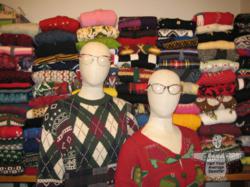 I even helped a department of co-workers who all wanted to dress alike for their company's holiday office party.
Seattle, WA (PRWEB) November 10, 2012
After becoming acquainted with more and more of her ugly Christmas sweater customers, Nancy Schloetel, the owner of Not Your Average Sweater.com, realized that many of her customers were attending ugly Christmas sweater parties in groups. In an effort to help with their wacky sweater shopping needs, Nancy came up with the idea of adding a new sweater category to her shop. Thus, her themed sweaters focused on the 12 Days of Christmas were born. (But trust me, her ideas don't follow what typically comes to mind when you think of this holiday carol favorite!)
"I've had families shopping on my site looking for sweaters to wear for their family photo Christmas cards; engaged couples looking for sweaters for photo montages on their wedding websites; one book club wanted to wear look-a-like sweaters to a party they were attending together; and I even helped a department of co-workers who all wanted to dress alike for their company's holiday office party," states Nancy Schloetel. "Luckily, I was able to accommodate their requests by providing sweaters that shared a common trait, but since my adorned sweaters are almost exclusively one-of-a-kinds, it was sometimes a tall order." Many of Schloetel's sweaters have been "adorned" with toys, odd "corsages," sections of t-shirts, tree ornaments, wooden figures, full-sized Christmas stockings, stuffed animals, door hangers, board games (yes, I said board games), glittery holly centerpieces, oven mitts, advent calendars, sequin purses, plastic candles, greeting cards, a stuffed guitar, a collapsible plastic laundry rack (complete with holiday socks and underwear), strings of blinking Christmas lights, and more. "My sweaters are all hand selected, and the items I add to them are gems that I find in every section of the thrift stores where I shop." She decorates her sweaters with found objects, so creating duplicates is seldom an option.
As a work-around to provide sweater sets for her customers, Nancy came up with the idea of themed sweaters. Choose a theme to follow, and then even individual, one-of-a-kind sweaters become cohesive. The 12 Days of Christmas seemed like a perfect fit as a sweater theme. "Once I let my imagination run with the idea, it was fun to see how I could work the items I was finding into the 12 days theme." Swans-a-swimming brought swimming gear to mind. Maids a milking opened up the option to sew on some playful stuffed cows. Turtledoves became Teenage Mutant Ninja Turtles with bird wings (of course). Birds-a-calling certainly required telephones. Lords-a-leaping are sometimes depicted as crocodiles, skateboarders, knights, or even an articulated Ken doll wearing a jabot and knee breeches and leaping across a green sweater. And the partridge in a pear tree? Make it Danny Partridge, and Nancy's happy to sew it onto one of her sweaters. They aren't your average 12 Days of Christmas items, but that's what makes them odd enough to be perfect on an ugly Christmas sweater. "And, after all," says Schloetel with a grin, "They have to be worthy of a spot in an eShop named Not Your Average Sweater, right?"
Once you begin to read through Nancy's blog (http://www.NotYourAverageSweater.com/blog/) and watch her how-to videos (http://www.youtube.com/UglySweaterGal), you soon learn that coming up with group sweater ideas isn't the only way in which she's dedicated to helping her customers. Her posts and videos include a wide range of party suggestions, from recipes, party games and activities, to decorating ideas. Her tips will help anyone from the novice to the experienced sweater party host throw an even more successful holiday party. You'll even find great sweater "uglifying" tips, however Nancy prefers calling her sweaters whimsical, but concedes that, "Calling these sweaters ugly is really a shame, but I'm afraid it's the term that's stuck, and is here to stay."
About Not Your Average Sweater:
The Not Your Average Sweater eShop offers ugly Christmas sweaters for holiday parties. Choose from hundreds of previously enjoyed, adult-sized sweaters ranging from quaint and charming, to hideously ugly (with lots of added extras you won't find anywhere else). Find great accessory and ensemble pieces (like patterned turtlenecks, holiday vests and blazers, along with plaid skirts, kilts, shorts and pants) to take your next ugly Christmas sweater look into the best-dressed (or would that be worst-dressed?) winner's circle.