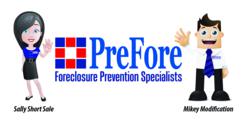 Santa Clarita, CA (PRWEB) November 13, 2012
Maz Badie, President and CEO of Exclusive Partners, Inc., a Santa Clarita-based real estate firm, introduces Mikey Modification and Sally Short Sale, the friendly faces of PreFore, a just-launched specialty provider of foreclosure prevention services to homeowners in default and facing foreclosure.
The company will offer loan modification consulting services to homeowners hoping to modify their mortgage with their lender and obtain a lower rate and payment. PreFore provides this service for fees that are performance-based, an unconventional model in an industry dominated by flat fees that don't hold companies accountable for poor performance.
"I wanted to show our clients that we sincerely have their best interest in mind, and I felt that the best way to do that was to tie our success to their success," said Badie. "It makes me sick to my stomach to have to read about people getting defrauded on a daily basis. I've been in the real estate business for 15 years, so it's my responsibility to provide the firm, stable ground for the people whom I've been helping all these years. It is a true pleasure to be able to provide homeowners in need with a trusted, reliable service when trust and reliability is what they need the most."
Badie is not alone in his efforts; earlier this year in March, a $25 billion settlement that the federal government and state attorneys reached with the nation's five largest banks has been providing substantial assistance to homeowners in the form of principal reductions and improved processing times of loan modifications. The California Homeowner Bill of Rights, signed into law in July of this year and which goes into effect on January 1, 2013, will serve to protect homeowners from dual-tracking, a process used by lenders through which they foreclose upon homes while homeowners are actively seeking a loan modification. The FBI has reported that there have been over 73,000 victims resulting in over $1 billion in losses during their battle with mortgage fraud. The dire state of the industry, along with the changing landscape being provided by various government agencies, have demanded the presence of individuals and organizations with the integrity to help homeowners get back on track.
In addition to modification services, PreFore also performs short sales for homeowners wishing to leave their homes for new ones. Prior to establishing PreFore, Badie's Exclusive Partners has completed over $500 million in real estate transactions. PreFore will carry that torch as it strives to become the nation's preferred short sale company.
About PreFore: PreFore is a foreclosure prevention company specializing in loan modifications and short sales. Homeowners seeking assistance can visit their website at http://www.prefore.com.
About Maz Badie: Maz Badie is a 15-year veteran of the real estate industry, providing residential and commercial sales and financing, bank-owned sales and, in the past five years, assisting homeowners with loan modifications and short sales. He has also played major roles in the development of foreclosure prevention projects in recent years, including LoanModDVD and Modassist. His company, Exclusive Partners, Inc., for which he serves as President and CEO, has completed over $500 million in real estate transactions since 2003.