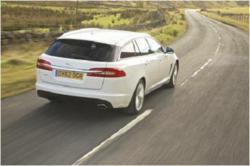 (PRWEB UK) 8 November 2012
Jaguar is providing two new online tools for business motorists designed to take all the tedious maths out of choosing the most tax-efficient and best-value executive cars.
A company car tax calculator allows company car choosers to spec up a new Jaguar and get a personalised tax calculation at the same time.
A separate car comparator shows how Jaguars shape up against rival models in terms of pricing, specification, predicted residual values, tax rates and running costs.
UK Jaguar Land Rover MD Jeremy Hicks said: "These tools will help drivers considering a Jaguar model as their next company car. The information is tailored to the differing requirements of the private motorist, company car driver or business car manager and is displayed in graphical and table formats."
"We take the corporate market very seriously and the aim of these services is to make it as easy as possible for company car drivers to understand what Jaguar has to offer for them."
Jaguar is emphasising the attractions of the 2.2-litre diesel XF for business car buyers – that's been tweaked to give emissions of 135g/km for the 2013 model year, giving a company car tax band of 18 per cent for the 2013/14 tax year.
However, in the absence of further CO2 improvements, the Jaguar 2.2-litre XF still falls short of the all-important 130g/km qualifying threshold for the full business car leasing disallowance due to come in from 01 April 2013.
For more information on the company car tax they will pay on a Jaguar, they can use Business Car Manager's own online company car tax calculator and company car comparison tool to help them decide if it's a Jaguar - or one of Jaguar's premium rivals on their company car shopping list.
Business Car Manager has extensive information on company car tax allowance and business car leasing, as well as regular reviews such as the latest Jeep reviews
For more information, visit Business Car Manager at http://www.businesscarmanager.co.uk/