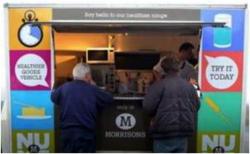 (PRWEB UK) 8 November 2012
OBESITY is a massive burden on the NHS – but it could also be a burden on an owner's van suspension. A recent survey carried out for supermarket chain Morrisons produced some alarming results from commercial vehicle drivers.
The research revealed that close to a third (28%) of those who responded are obese or morbidly obese compared with the national average of around a fifth (22 per cent). But 41% surveyed said they worried about their health.
Almost a third admitted to snacking on biscuits, and more than a fifth nibbling on crisps daily. And 70% of those questioned admitted to not eating fruit daily and, on average, eating just three of their 'five a day'.
More than a third (34 per cent) said that being 'on the road' made it difficult to be healthy. Nearly a quarter (23 per cent) mostly ate their meals from transport cafes, service stations, depots or fast food outlets.
Practising GP and Radio 2 Doctor Dr Sarah Jarvis commented: "Typical roadside convenience foods such as burgers, sausage rolls, crisps and fry-ups are high in saturated fat. A typical fry-up can contain more than half of the recommended daily calorie allowance. Travelling for long periods can make it difficult to avoid these types of foods, especially when the roads are lined with fast food outlets."
Morrisons nutritionist Bryonie Hollaert said: "This particular community is at the extreme forefront of the rise in obesity across the UK. Because of their profession, it is particularly difficult for them to accommodate healthier eating and exercise."
Morrisons recently launched a healthier eating range called NuMe, and piloted a series of initiatives at truck stops across the UK, including the NuMe HGV (Healthier Goods Vehicle), serving meals at truck parks around the UK to demonstrate that healthier eating doesn't have to mean sacrificing on taste or taking ages to prepare.
Also on offer have been freshly cooked 'fry-down' menus with healthier versions of the traditional 'fry-up' breakfast to show the small switches van drivers and truckers can make towards better health. In addition, the supermarket provided 'Weigh-by' health check clinics offering HGV and business van drivers a health MoT, including a body mass index check with one-to-one advice.
Keep up to date with developments in our Business Van News section.
Business vans have a variety of business vans advice and company van reviews
For more information, visit Business Vans at http://www.businessvans.co.uk/