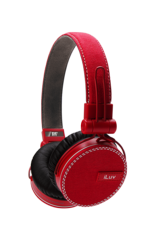 "Headphones are quickly becoming a part of the language of fashion. We at iLuv recognize that consumers are searching for quality headphones that also feature a stylish design."
Port Washington, NY (PRWEB) November 08, 2012
iLuv Creative Technology, the premier provider of the most comprehensive line of accessories for the mobile lifestyle, introduces the ReF™ line of premium headphones. Ideally-suited for fashion-forward music lovers, the ReF™ line of headphones is a bold statement in iLuv's new Fashionology® collection.
"Headphones are quickly becoming a part of the language of fashion, and we at iLuv recognize that consumers are searching for quality headphones that also feature a stylish design," commented Brian Kim, Global Product Marketing Manager of iLuv's Premium Headphone Division. "That is why we are introducing Fashionology®, a combination of fashion and technology. Headphones traditionally appealed to a small group of audiophiles and technology enthusiasts, but that group is growing to include people who want to project their identity through their music accessories. There is a demand for headphones that represent 'Who I am' and 'What I stand for', and iLuv meets that demand with the ReF™ line."
Whether you're walking through the streets of New York or across a college campus with these headphones, the ReF™ offer a top-of-the-line look while providing quality sound and unbelievable comfort. The sleek and stylish ReF™ products come in four different color sets including black, white, navy and red. The all-fabric exterior of the headphones is a distinctive design element that sets them apart from competitors and reflects iLuv's understanding that fashion and function are equally important in the premium headphone market. The soft and breathable protein cushion ear cups allow users to revel in hours of musical enjoyment without experiencing any discomfort, while still providing superior noise isolation. The built-in titanium coated diaphragm delivers a dynamic sound range while also providing the deep bass everyone craves. The ReF™ headphones come in two different builds, one for Smartphones iHP636 and one for Apple devices iHP635, both of which allow users to answer and end incoming calls via the SpeakEZ remote. Perfect for on-the-go usage, ReF™ are uniquely built to easily fold up for ultimate portability.
Pricing and Availability
The ReF™ premium headphones will be available at select iLuv retailers in November. The headphones will have a MSRP of $129.99.
Follow us on Twitter @iLuv_World, or friend us on Facebook at iLuv Creative Technology.
About iLuv
iLuv Creative Technology, the premier provider of the most comprehensive line of accessories for the Apple, Samsung and smartphone markets, rapidly delivers products for today's discriminating consumers. Since inception, iLuv has amassed a total of 27prestigious CES Innovations awards, recognition for innovative design and engineering in the portable, multimedia accessories, headphones and the in-vehicle accessory categories. Headquartered in New York, iLuv is a division of jWIN Electronics Corp., a leading consumer electronics company since 1997. All iLuv products are conceived designed and developed in New York and continue to lead in quality, value, design and innovation. Learn more about our distinctive range of products and why iLuv means Innovative Lifestyle Unquestionable Value® at http://www.iLuv.com.
iLuv® and Innovative Lifestyle Unquestionable Value® trademarks are the exclusive properties of jWIN Electronics Corp. and are registered with the U.S. Patent and Trademark Office, and may be registered or pending registration in other countries. All other iLuv® trademarks, service marks, and logos may be registered or pending registration in the U.S. or in other countries. All other trademarks or registered trademarks are the property of their respective owners. © 2012 iLuv Creative Technology.
Media Contact:
Melissa Hoistion
R&J Public Relations
(908) 722-5757
mhoistion(at)randjpr(dot)com
# # #