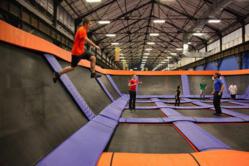 "We are thrilled to bring the ultimate play experience to Rhode Island," said Stella Downie, Owner, Sky Zone.
Providence, RI (PRWEB) November 09, 2012
Sky Zone, creator of the world's first wall-to-wall trampoline playing courts, will open in East Providence, RI in December with fun, healthy recreational activities, competition and entertainment for people of all ages.
Sky Zone Indoor Trampoline Park's Providence location will offer – over 15,000 sq. ft. of interconnected trampolines forming six massive trampoline courts – each enclosed with angled trampoline walls allowing jumpers to literally bounce off the walls.
The new 25,000 sq. ft. facility will feature a large main trampoline court, two ultimate trampoline dodge ball courts, a kid's court, a foam pit for big air and a soft landing, and a sky slam basketball dunk court. Sky Zone will also offer high-quality food and beverages with a focus on healthful, energizing, and delicious refreshments.
"We are thrilled to bring the ultimate play experience to Rhode Island," said Stella Downie, Owner, Sky Zone. "Trampolines deliver a highly-effective and low-impact workout and are a refreshing alternative to traditional recreation activities. Sky Zone is an amazing combination of fitness and fun – and it is super affordable."
Sky Zone pricing, including shoe rental, starts at just $8 for 30 minutes and $12 for 60 minutes. Visitors can jump for 90 minutes and for 120 minutes for $16 and $20.
Sky Zone offerings include:
Open Jump: Open Jump is for individuals or groups of 'jumpers' during everyday business hours. Tickets can be purchased online to guarantee jump time or purchased at walk-in. Open Jump is 30- to 120-minute blocks of unstructured, fun jump time.
Ultimate Trampoline Dodge Ball: Dip, dodge, duck, dive, and literally bounce-off-the-walls during rounds of Ultimate Trampoline Dodge Ball.
SkyRobics: Combining advanced calisthenics, core exercises and strength building aerobics, SkyRobics delivers a dynamic, effective, and intense workout that can burn up to 1,000 calories per hour.
SkyRobics 4 Kids: Children and teens are provided with a foundation of exercise and overall fitness in SkyRobics 4 Kids while using age-appropriate games and exercise routines.
SkyJam: SkyJam is an exciting alternative to the traditional nightlife and is open to attendees 18+. Held every Saturday, from 10pm to 12am, SkyJam is a 90-minute jump session followed by pizza and beverages.
Toddler Time: If you can walk then you can jump! That's our philosophy at Sky Zone Indoor Trampoline Park, and that's why we created a time specifically for the little ones. Jumpers must be 4 and under, and also 40 inches and under.
Second Sunday: Second Sunday is a quieter time for jumpers with special needs. It is held for children and their caregivers on the second Sunday of every month before our regular open hours.
Sky Zone Providence is scheduled to open in December 2012.
About Sky Zone
Sky Zone Providence is owned and operated by Stella Downie and partners, the current owners and operators for Sky Zone Everett, MA, and Sky Zone Boston. Downie was the first franchisee of Sky Zone, LLC. Sky Zone, LLC, the creator of the world's first all-trampoline, walled playing court, received a U.S. patent for the court's design, and opened its first facility in Las Vegas in 2004. With 25 current locations nationwide, Sky Zone Providence's facility will be the third in the Northeast and the largest in New England.
For more information on Sky Zone Providence, or to learn more about classes or events, please visit http://www.skyzonesports.com/providence or follow us on facebook at http://www.facebook.com/skyzoneprovidence and twitter at http://www.twitter.com/szprovidence.