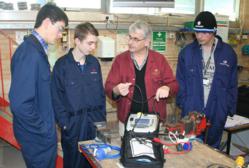 It's a recognisable skill and a qualification that is convertible to cash
Kent, England, UK (PRWEB UK) 9 November 2012
Trainee electricians are the latest MidKent College students to benefit from a new business venture designed to increase their employability.
MKC Aspire Ltd is a division of the College designed to enhance the learning experience of students by creating real life opportunities for them, and is currently in the process of setting up several new projects.
Its latest aims to teach learners how to carry out PATs – portable appliance tests – so they can help businesses fulfil health and safety requirements by regularly maintaining electrical equipment.
Once the five-week course is completed, the students will be paid to carry out PATs across the College and at the Maidstone Campus in particular as each room is opened following the ongoing £25 million refurbishment.
Simon Foot – head of faculty for Construction & Engineering at the Maidstone Campus – said: "Part of our commitment to prepare students for the working world is to provide them with real life opportunities such as this.
"It's great for them because they gain invaluable experience carrying out PATs, while the College also benefits by not having to bring in external companies to carry out the work."
The trainees on the City & Guilds scheme are all existing MidKent College students enrolled on Electrical Installation courses at the Maidstone Campus.
Lecturer Tony Marsh said they will soon be qualified to test televisions, computers and any other electrical appliances found in the workplace.
He added: "It's a recognisable skill and a qualification that is convertible to cash.
"It will be invaluable for the students when they are seeking employment because it will give them an edge over other applicants."
Last month MKC Aspire set up MidKent College Driving School, which offers lessons from just £17 per hour for staff and students.
It also recently launched Pavilion Events – a business that provides students with experience in the hospitality and catering industry by hosting themed dinners, conferences and more at the £86 million Medway Campus.
More information on Pavilion Events will be released soon.