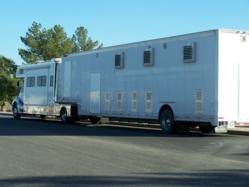 Los Angeles Ca (PRWEB) November 09, 2012
Mobile Mex Media Group is sending a fully custom 48' mobile kitchen to the American Red Cross for use in relief and recovery efforts following Hurricane Sandy and other storms buffeting the Eastern seaboard and nearby states.
Said Jesse Hernandez VP National Account. "Helping the people of New Jersey and New York is first on our minds here at Mobile Mex Media Group.These mobile kitchens are sent out quickly where they can do the most good is something we can do right now."
In addition to sending the 48' mobile kitchen vehicle, Mobile Mex Media Group marketing team will donate $50,000 to the Red Cross Disaster Responder Program, which enables the agency to be ready to provide immediate disaster relief anywhere in the country. The money is used to shelter, feed and meet emotional needs of disaster victims. The money also helps feed emergency workers, handle inquiries from concerned family members outside the disaster area, provide blood and blood products and help disaster victims access other available resources.
Mobile Mex Media Group is also donating the following items: flashlights; batteries; glow sticks; peanut butter and jelly; crackers (all varieties); Velveeta cheese; canned cheese spread; canned tuna, chicken, beef and salmon; mayonnaise/Miracle Whip; cereal; granola bars; nuts; trail mix; raisins; canned soups, Spaghettios, ravioli, beans, beef stew and chili; canned vegetables; canned potatoes; canned or dried fruits and fruit cups; powdered or liquid juice or juice drinks; hot chocolate mix; and powdered milk.
About Mobile Mex Media Group LLC:
Mobile Mex-Media Group is a nationally recognized Non-Traditional Outdoor Mobile Advertising Company. Not only do we operate our own fleet of the Mobile Lunch Trucks, and Digital Media Company, but we are also experienced marketing & advertising professionals. We specifically plan campaigns to ensure that our clients' Advertisement have the best possible exposure to their TARGET audience. Our primary goal is to deliver your brand message to your consumers.
Media Contact:
E-mail: media(at)mobilemex-mediagroup(dot)com