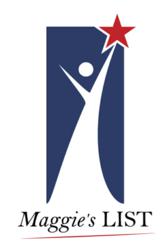 Washington, DC (PRWEB) November 08, 2012
Maggie's List, a federal political action committee (PAC) dedicated to electing conservative women to federal office, congratulates our 19 winning candidates who stand as living proof that conservative women have a vital role in national office. The results for the Martha 's race for Arizona's Congressional District 2 race are still pending - the vote count currently has her up by 426.
Founded in 2010, the number of winning races for candidates endorsed by Maggie's List has (almost) doubled in two years from 10 to 20 U.S. House and Senate seats.
This hard won success, despite a painful defeat in the presidential race for conservatives, is due to a deliberative selection process where candidates are endorsed based on their belief in Maggie's List commonsense values of fiscal conservatism, less government, more personal responsibility and strong national security.
"This level of success would not be possible without our Members, Trustees, Board and a strong network of 32 State Chairs," says Sandra B. Mortham, Chairman of Maggie's List and former Florida Secretary of State. Mortham continues, "I congratulate all of the strong conservative women that we endorsed and supported in this election. These victories prove that conservative women are chosen by The People to serve as national leaders for commonsense values."
Maggie's List was the first federal PAC to see the promise in Deb Fischer, U.S. Senate Candidate for Nebraska that beat out two established candidates to win the primary election and go on to beat an established opponent with 58% of the vote. She will be a force in the United States Senate for fiscal conservative values.
"Running for federal office takes courage and we don't always win. Maggie's List has profound respect and admiration for all the courageous conservative women that ran for federal office in this cycle. Thank you for your dedication, hard work and sacrifice. Your stand serves as a living example of leadership and civic duty to millions of young women and girls. When most people shy from challenge, you faced the reality that you cannot win if you do not run," explains Mortham.
Maggie's List empowers conservative women candidates with political credibility and national notoriety. Maggie's List has a growing reputation for backing promising candidates with a mix of maximum financial contributions, an established national network and rapid response grassroots efforts.
Maggie's List 2012 endorsed candidates that will serve in the 113th Congress are:
1. Deb Fischer / Nebraska Senate
2. Susan Brooks / Indiana Congressional District 5
3. Ann Wagner / Missouri Congressional District 2
4. Jackie Walorski / Indiana Congressional District 2
5. Representative Michele Bachman / Minnesota Congressional District 6
6. Representative Diane Black / Tennessee Congressional District 6
7. Representative Renee Ellmers / North Carolina Congressional District
8. Representative Jo Ann Emerson / Missouri Congressional District 8
9. Representative Virginia Foxx / North Carolina Congressional District 5
10. Representative Kay Granger / Texas Congressional District 12
11. Representative Vicky Hartzler / Missouri Congressional District 4
12. Representative Jaime Herrera Beutler / Washington Congressional District 3
13. Representative Lynn Jenkins / Kansas Congressional District 2
14. Representative Cynthia Lummis / Wyoming At-Large Congressional District
15. Representative Cathy McMorris Rodgers / Washington District 5
16. Representative Shelley Moore Capito / West Virginia Congressional District 2
17. Representative Kristi Noem / South Dakota At-Large Congressional District
18. Representative Martha Roby / Alabama Congressional District 2
19. Representative Ileana Ros-Lehtinen / Florida Congressional District 27
About Maggie's List
Maggie's List is a Federal Political Action Committee created to raise awareness and funds to increase the number of conservative women elected to federal public office. Since 2010 this group of dedicated women have had an outstanding record for endorsing successful candidates for United States Senate and U.S. House of Representatives. For more information about our candidate training or endorsement process please visit http://www.maggieslist.org.
Press Contact:
Missy Shorey
Maggie's List
(202) 277-7100
missy(at)shoreypr(dot)com
# # #