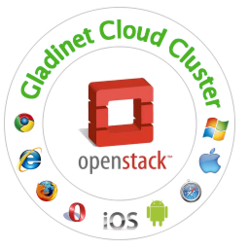 Gladinet delivers a branded access platform for OpenStack in 30 days!
FORT LAUDERDALE, FL (PRWEB) November 13, 2012
Gladinet offers a brandable front-end access platform that can use OpenStack or any other online storage service on the back end and can vastly simplify the process of bringing a solution to market. Using this approach, an MSP can offer a cloud-based file storage, sync and collaboration solution—with their own branding—in about a month.
IT managers in small and medium businesses (SMBs) face a growing challenge from cloud-based file storage and synchronization services that work like Dropbox or SkyDrive. With a web-based account and a simple agent, SMB users can go around IT security controls and compromise sensitive data. To defuse that risk and support user productivity, SMBs are turning to managed service providers (MSPs). IT managers want collaborative capabilities and Dropbox-like functionality that they can manage, secure and monitor.
Gladinet's solution is designed for flexibility and freedom. For example, MSPs can repurpose available computing, storage and networking resources on customer premises to provide the solution's processing and storage, giving the customer the peace of mind of a managed private cloud. MSPs can also choose to use their data center hardware to create flexible pools of online storage that serve multiple customers and take advantage of the economies of scale made possible by multi-tenancy. Furthermore, the Gladinet supports all major cloud services. This flexibility lets MSPs tailor the solution to each customer's primary concerns—on-premises infrastructure soothes those who are nervous about security, while economies of scale appeal to the cost-conscious.
The Gladinet solution provides familiar functionality and is just as easy to use as the free services to which users are accustomed. Once it's running, customers can access cloud storage with a Windows, Mac, mobile or browser-based client, and securely share files and publish team folders to simplify collaboration.
The solution's flexibility is unique. No other available offering lets MSPs choose between customer on-premises hardware, their data center and public cloud storage services, and then lets them deploy it under their own brand. The solution's file transfer speed is also unique. Once a network share is attached to the storage system, even very large folders are instantly available to all client computers – remote and local. With other solutions, synchronization of very large data sets can take days or even weeks.
About Gladinet
Founded in 2008, Gladinet is a growing company, with the number of people who have downloaded its cloud storage access software approaching 2 million. And even if you haven't heard of Gladinet, you have heard of the companies that trust it in partnership, including Google, EMC, HP Cloud Storage and AT&T. Gladinet software powers the Nuance Cloud Connector, which converts documents stored in Microsoft Live SkyDrive, Google Docs, Box.net, Amazon S3 and others. Gladinet also participates in the EMC Velocity Program, which helps select independent software vendors more quickly on-board customers to cloud storage and the
scalability, elasticity and lower costs enabled by cloud solutions.
Learn more at http://www.gladinet.com