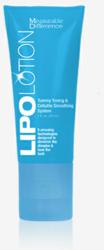 Innovative new Lipo-Lotion provides the extra edge to looking more toned, chiseled, sculpted and smooth all over.
Los Angeles, CA (PRWEB) November 09, 2012
A new, high-powered weapon in the war against cellulite has hit the beauty market. When diet and exercise just aren't enough – frustrated consumers can now turn to Measurable Difference Lipo-Lotion™, an amazing combination of the top fat busting, dimple diminishing, and skin firming ingredients in one fast-acting lotion.
Created by beauty innovator Chrislie Formulations, new Lipo-Lotion provides the extra edge to looking more toned, chiseled, sculpted and smooth all over. Lipo-Lotion helps to visually diminish dimples while effectively firming, tightening and toning stubborn areas like the tummy, tush, love handles and the challenging underarm area.
Lipo-Lotion works using a patented QuSome™ micro encapsulation system that delivers a greater concentration of ingredients to the skin, as compared to conventional methods, for increased effectiveness.
The specialized body contouring technologies in Lipo-Lotion are:

Xantagosil C™ - This amazing discovery is second to none as a skin firming and slimming agent. It gives a tightening effect to the tush, and helps tuck in the tummy for the best look possible.
Scopariane™ - One of the world's top dimple diminishing ingredients. Known for its ability to help visibly reduce the appearance of cellulite, Scopariane is an amazing addition to Lipo-Lotion's effectiveness.
Chlorellagen-DP™ - Derived from green micro-algae, Chlorellagen-DP is rich in the amino acids Lysine, Proline, Glycine and Alanine, which are the essential building blocks of proteins. Chlorellagen-DP has also been shown to help reduce the look of spider vein redness by 25% in just 3 months.
REGU®-STRETCH™ - A new solution that was specifically developed for stretch marks. By combining the excellent properties of a synthetic peptide, a vitamin and an organic Marrubium extract, this innovative ingredient helps to diminish the appearance of uneven skin tones giving you the smoothest most radiant looking skin possible.
Caffeine - Works to energize the skin while boosting circulation.
Using Lipo-Lotion is quick & easy. Simply apply the lotion twice a day to any areas of concern for smoother, firmer skin. Generously apply while massaging the skin with Lipo-Lotion's high tech built-in massaging applicator in a rotating motion for 3 minutes for instant results you can see and feel!
###
About Chrislie Formulations
Experience the world of Chrislie Formulations – a global brand creating innovative beauty concepts to meet and exceed the demands of the ever-changing beauty industry. With world­wide distribution, Chrislie Formulations offers premium, effective product collections such as LASHEM, Nailuv and Lipo-Lotion. At Chrislie we believe that the marriage between beauty and technology promises remarkable innovations that are setting the bar for excellence — today and in the future.
For more information or to sample new Lipo-Lotion, contact:
Courtney Regan
Courtney(at)beautybizpr(dot)com
561-252-6096