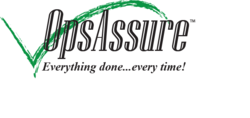 No more I forgot to do that from employees
Charleston, South Carolina (PRWEB) November 10, 2012
Going beyond a basic paper checklist, the software is designed to give unprecedented transparency and accountability into operations where task completion has a direct correlation to profitability. Most small businesses and franchise operations already use some sort of task lists. This is the main reason for the consistent and predictable performance from the likes of McDonalds, Lowes, Publix and other geographically dispersed type operations. Checklists are used because they are simple, flexible and a perfect remedy to a bad memory. Checklists are most effective when there is a clear line of accountability back to an individual. Most paper checklists fail this accountability test. In addition, all the hassles associated with paper (storage, tracking, etc), makes a OpsAssure "Green" initiative any company can embrace.
The checklist should not be seen simply as a list of things someone has to do; it is a tool that achieves defined objectives. In this context, checklists help improve the consistency of core operations and make tracking much easier to track than paper. The core operations are those necessary steps that strike a delicate balance between success and failure to produce the outcomes required to enhance productivity and maximize profits.
What are ways a business can use checklists?

Alert staff when something is due
Tell staff how it should be done
Get confirmation at the end of the shift
Tie completion back to employee performance
Monitor a business unit's operational performance
Eliminate guesswork
Hold everyone accountable
Monitor compliance
Quality Assurance
Regulatory program tasks completion
With OpsAssure, you get an easy to use, but advanced online checklist which lays out tasks to be done. These tasks can be assigned by site, group, role or individual. It combines real-time alerting for critical tasks and powerful reports to help you spot inefficiencies. OpsAssure is designed to work with your business. Its design allows supervisors to manage a local group of employees or a remote team of hundreds.
The release includes:

Free 60-day trial
Free set up of first checklist
Free one hour Administrative user training
Group tasks assignments
Automatic compliance reports
About OpsAssure: OpsAssure is a web based software application designed to help small business improve the performance of their operations. The software provides visibility in a way paper never will. It works with any size business and can be accessed by any Microsoft based computer, tablet or smart phone. Today thousands of companies use paper checklist to manage operations. OpsAssure goes beyond the best paper has to offer and bridges the gaps the lead to operational breakdowns.
Visit http://www.OpsAssure.com or read the Checklist Chronicles by Checklist Charlie at http://opsassure.com/cl_chronicle to find out how converting your paper checklist to a digital format can be done in less than 48 hours. Call 888-503-4527 and get started today!