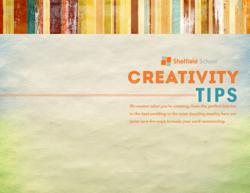 As a school, we strive to provide our students with the latest and greatest tips to succeed in their field
New York, NY (PRWEB) November 13, 2012
Last week, the Sheffield School released a new eBook on creativity tips, available for free on the school's website. The school, which is known all over the world for providing high quality training programs for creative professionals, wrote the booklet with interior designers, wedding planners, and jewelry designers in mind. But the advice given in the free download has applications to everyone.
"As a school, we strive to provide our students with the latest and greatest tips to succeed in their field," said Chuck DeLaney, Sheffield School's Director, "and our new book of creativity tips is a way for the general public to share in that wealth of information that we've amassed."
The Sheffield School offers four home-study courses: The Complete Course in Interior Design, The Complete Course in Wedding & Event Planning, Jewelry Design: Beading & Wire Working, and Feng Shui Interior Design. Each course is designed for hobbyists and aspiring professionals in the field to learn new skills and get training from professionals in order to get their skills to the next level.
Interested visitors can subscribe to the Sheffield School's free monthly newsletter in order to download the contents of the booklet. Click on the link to subscribe and download Creativity Tips for free.
About the Sheffield School
For over 25 years, the Sheffield School has trained successful designers and wedding planners. Founded in 1985 as an Interior Design school, it has since added courses in Feng Shui Interior Design, Wedding & Event Planning, and Jewelry Design. All of the Sheffield School's programs are distance education courses and serve students all over the world. The Sheffield School is owned and operated by Distance Education Co., LLC, with two sister schools also located in Manhattan, the New York Institute of Photography and the New York Institute of Career Development.