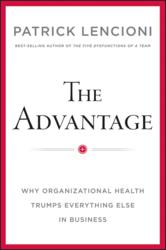 San Francisco, CA (PRWEB) November 12, 2012
Upon its hardcover release in March 2012, Patrick Lencioni described his book THE ADVANTAGE: Why Organizational Health Trumps Everything Else in Business as "the culmination of my full body of work." This is the first time anyone has presented organizational health as a true comprehensive discipline showing that a healthy organization can transform a company and its bottom line in a very real, practical way. Lencioni's Wall Street Journal bestseller is now available as an engaging and transformational enhanced eBook, for sale in all video-enabled formats sold by all major online retailers and readable on tablets directly or via apps on the iPad, Samsung Galaxy Tab, and NOOK Color.
The enhanced version of THE ADVANTAGE includes over 30 minutes of exclusive video created just for this premium product featuring Lencioni expanding on the book's most critical concepts, offering new practical advice not in the print book, and providing new illustrative stories. The 20 embedded, enlargeable videos, some with animations, will make viewers feel as if they are getting their own face-to-face guidance from this preeminent public speaker. Along with the videos, readers are given access to seven full color PDFs of many of the book's models, tools, and assessments that they can view, download, print, and post on their walls. All these new features and resources can be found in a convenient Multimedia Table of Contents, linked for easy reference. In addition, some art from the book has been colorized and made expandable for better viewing.
THE ADVANTAGE Enhanced Edition eBook is one of the most leading-edge eBooks published to date in Business. This is a valuable multimedia resource every leader should have on their digital shelf.
On November 13th and 14th all major retailers will be offering the enhanced version of "The Advantage" for the discounted price of $8.99. Customers can visit participating retailers, Amazon, B&N, Apple, and Google to receive this special, 48-hour, introductory rate.
To watch a video demo of the THE ADVANTAGE, click here.
ABOUT THE AUTHOR
Patrick M. Lencioni is founder and president of The Table Group, a management consulting firm specializing in organizational health and executive team development. As a consultant and keynote speaker, he has worked with thousands of senior executives in organizations ranging from Fortune 500 and mid-size companies to start-ups and nonprofits. Lencioni is the author of ten business books with over three million copies sold worldwide. He lives in the San Francisco Bay Area with his wife and four boys. More at http://www.tablegroup.com
About Wiley
Founded in 1807, John Wiley & Sons, Inc. has been a valued source of information and understanding for more than 200 years, helping people around the world meet their needs and fulfill their aspirations. Wiley and its acquired companies have published the works of more than 450 Nobel laureates in all categories: Literature, Economics, Physiology or Medicine, Physics, Chemistry, and Peace.
Wiley is a global provider of content and content-enabled workflow solutions in areas of scientific, technical, medical, and scholarly research; professional development; and education. Our core businesses produce scientific, technical, medical, and scholarly journals, reference works, books, database services, and advertising; professional books, subscription products, certification and training services and online applications; and education content and services including integrated online teaching and learning resources for undergraduate and graduate students and lifelong learners. Wiley's global headquarters are located in Hoboken, New Jersey, with operations in the U.S., Europe, Asia, Canada, and Australia. The Company's Web site can be accessed at http://www.wiley.com. The Company is listed on the New York Stock Exchange under the symbols JWa and JWb.