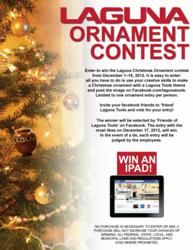 Irvine, CA (PRWEB) November 14, 2012
Woodworkers will soon be scouring their shops for scraps of cherry wood, oak, pine or whatever looks good to create beautiful wooden ornaments to enter in the First Annual Laguna Holiday Ornament Contest, sponsored by Laguna Tools and running from December 1 through 16, 2012.
"Whether you're using a lathe and hollowing tool or a simple pocket knife to whittle an ornament, we want to see it and share your ornament creation at Facebook.com/Lagunatools," said Catherine Helshoj, Vice President of Laguna Tools, an industry leader in innovative woodworking equipment for professionals and serious hobbyists alike. "The only requirement for entering the Laguna Holiday Ornament Contest, which will be giving away a free Apple iPad to the first place winner, is that the ornament must incorporate the Laguna Tools name or Laguna Tools theme in some manner."
To enter the First Annual Laguna Holiday Ornament Contest, simply post a picture of your wooden ornament at Facebook.com/Lagunatools no later than December 16 at 9am (PST). "We're expecting a large number of submissions, so be sure to get your submission to us between December 1 to 16," Helshoj said. "Only one entry per person will be accepted."
According to Helshoj, Facebook users who have "liked" Laguna Tools at Facebook.com/Lagunatools will be eligible to vote for their favorite Laguna Holiday Ornament entries, with the first place winner receiving a free iPad.
"It's a great way to showcase the wonderful creativity of woodworkers throughout the country," she said. "Woodworkers have been creating their own ornaments forever. It allows a person to reflect their own interests, and truly customize their family Christmas tree. Who knows what will be coming in? If they love fishing, it could be a smiling marlin wearing a Santa hat. We can't wait to see what woodworkers come up with this year!"
The Laguna Holiday Ornament entries will be featured both on Facebook.com/Lagunatools and the company's website. "We want as many people as possible to enter the contest, so please invite all of your Facebook friends to enter," she added.
For more information on the First Annual Laguna Holiday Ornament Contest and a chance to win a free iPad, go to Facebook.com/Lagunatools or http://www.lagunatools.com.
Laguna Tools, based in Irvine, California, has been leading the industry in woodworking innovations for more than 28 years and continues to challenge the industry with new advancements and innovations. Laguna Tools builds and markets a wide range of woodworking tools, from small tools to a number of different CNC machines. At Laguna Tools, we aspire to be "globally local" by investing our time, support, products and services into many community outreach programs. For more information on the Laguna Tools quality line of performance products, please call 1-800-234-1976 or visit our website at http://www.lagunatools.com.