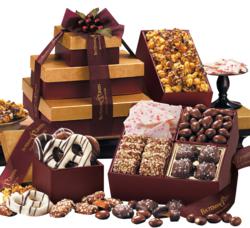 "Promotional opportunities will be wasted if the product displays the producer's logo rather than the donor's."
-John Bagwell, Bagwell Promotions
Dallas, TX (PRWEB) November 10, 2012
Gift baskets and snacks are very popular for promotional giving during the holidays because customers always appreciate tasty treats. However, Bagwell Promotions cautions that the promotional opportunities will be wasted if the product displays the producer's logo rather than the donor's.
Almost 20% of recipients made a purchase from companies that gave them a promotional item according to a 2009 study conducted on behalf of the Promotional Products Association International (PPAI). This compares to purchases by 13.4% of consumers in response to a print ad, 7.1% in response to a TV commercial and 4.6% of online ad viewers. Food gifts are among the most popular promotions.
John Bagwell of Bagwell Promotions advises organizations to maximize the returns from their promotional dollars by selecting items that will be popular with the majority of consumers. Chocolate, nuts and gourmet snacks are all memorable with customers. In the same study by PPAI, when they like the gift, almost 90% of the recipients of promotional products remembered the name of the donor. Food giveaways are popular and have terrific pass-along value.
Gifts that are explicitly branded with the company logo and contact information will take full advantage of the advertising potential of promotional products. Food is universally appealing but is too often branded by the producer and not the giver.
"Rather than tucking a business card or brochure into a food basket or the wrapping of the gift," John Bagwell suggests, "Companies should order food gifts that are packaged to promote the supplier's brand, not the branding of the product. Every time customers eat a piece of gourmet candy, cheese, snack meats, nuts, or cookies, they need to see the business's logo and contact information. That continues to encourage them to patronize the company."
The suppliers of promotional food gifts used by Bagwell Promotions differentiate themselves by branding their products with the company's brand rather than their own. This is the key to effective use of a promotional food item. Marketing allocations must be designed to provide a return on their investment. Holiday delicacies that appeal to recipients and include the branding of the provider are appreciated by customers and will increase sales.
Bagwell Promotions is a leading provider of promotional products with more than 1,300 unique designs that can include an imprinted or engraved logo, message, or image. Depending upon the required production time, food packages can be shipped within 5 – 7 days.
Additional information is available from the information Bagwell Promotions Food Gifts webpage or by calling toll free 1-866-281-8830.
About Bagwell Promotions:
Bagwell Promotions offers over 500,000 imprinted promotional products from 4,100 suppliers including coffee mugs, pens, flashlights, magnets, ID bracelets, key chains and an assortment of apparel. In addition to snacks and other food gifts, Bagwell Promotions also has other items for Christmas and Holiday promotions including customized calendars and personalized ornaments.
Contact:
John Bagwell
1-866-281-8830