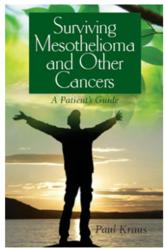 Raleigh, NC (PRWEB) November 11, 2012
A new study may give mesothelioma patients and their doctors yet another reason to be hopeful about surgery. In the past, animal organs and tissues have been successfully used to replace or rebuild human tissues in other surgeries for years. However, now there is a new study suggesting that so-called 'bioprosthetics' may also play a valuable role in mesothelioma.
Pleurectomy and Decortication for Mesothelioma
Pleurectomy and decortication for mesothelioma involves the removal of the diseased pleural tissues (the lining around the lungs) and separating any cancerous tissues from the surface of the lungs so that they can expand normally again. It is often used to relieve shortness of breath, one of the most troubling day-to-day symptoms for many mesothelioma patients.
After radical pleurectomy and decortication, portions of the chest wall may need to be rebuilt. This is often done using synthetic implants, but a team of doctors at Nottingham University in Nottingham, England recently experimented with biologically-based tissue implants with positive results.
Outcomes
The team examined the outcomes of 44 consecutive thoracic surgery patients, including 29 with mesothelioma, whose chest cavities were reconstructed using bioprosthetic material. Most patients needed between 1 and three patches. In all, 76 patches were used.
One of the mesothelioma patients died of pneumonia 26 days after surgery. Another patient died of a pulmonary embolism 5 days after surgery and a third developed a fatal bronchopleural fistula 11 days post surgery. The median hospital stay among the patients in the study was 13 days. One of the biggest worries – infection – was not a problem in any of the patients, even when the surgery was performed in a less-than-sanitary environment. Given the severity of the illnesses and the extensive nature of the surgeries performed on these patients, the results of the study were deemed "overall acceptable" by the thoracic surgeons.
Biologically-based prosthetics include implants that either come directly from an animal or are made of animal tissues. Because of their biological origins, they may behave more like human tissue than synthetics do. In a summary of their findings for the Annals of Thoracic Surgery, the official journal of the Society of Thoracic Surgeons, the team concluded that "biologic prosthesis should be part of the surgical options to reconstruct soft tissues in thoracic surgery."
For more information about mesothelioma, please visit Surviving Mesothelioma on the web or at their Facebook page.
About Surviving Mesothelioma:
Surviving Mesothelioma is a website dedicated to providing information, news, and resources for mesothelioma patients and their loved ones. Supported by the Cancer Monthly organization, Surviving Mesothelioma reports on the latest news regarding mesothelioma treatments, information about finding mesothelioma doctors, treatment results, and books and testimonials from mesothelioma patients and survivors.
Disclaimer: The information in this article is for educational and informational purposes only. The content is not intended to be a substitute for professional medical advice, diagnosis, or treatment. Always seek the advice of your physician or other qualified health provider with any questions you may have regarding a medical condition. Never disregard professional medical advice or delay in seeking it because of something you have read in this article. This article was written by a third party and its content reflects the views of the third party and does not necessarily reflect the views or opinions or of Surviving Mesothelioma or Cancer Monthly.