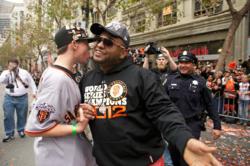 San Francisco, CA (PRWEB) November 14, 2012
Scott Chernis Photography, a professional freelance photographer in San Francisco, California, is pleased to announce that he was once again selected as an official photographer for the San Francisco Giant's World Series victory parade. On October 31, 2012, the city of San Francisco celebrated its second World Series championship in three years and Scott Chernis Photography was selected for the second time as a parade photographer.
Mr. Chernis captured numerous striking photographs of the parade, including photos of the players up close and numerous pictures of the black and orange crowds swarming the city to watch the San Francisco Giants baseball players ride by in the parade. Key photographs by Scott Chernis Photography included a shot of Pablo Sandoval leaping from his convertible and embracing a fan in the middle of Market Street, Marco Scutaro raising his arms to enjoy a confetti shower, Buster Posey and his wife waving to the screaming fans, and many others.
"I was honored to be selected as a photographer for the World Series parade for a second year," said Scott Chernis. "It was an exciting time for me, both as a fan and a professional photographer. The spirit of huge crowd was electric and I was pleased to end up with some striking photos that truly reflect the victory and celebration of the parade."
Being selected as an event photographer for the San Francisco Giants signals another step in Scott Chernis Photography's success in providing high quality, professional photographs for some of the most well-known political figures, universities, Fortune 500, music and sporting events in San Francisco and across the United States. For further information about Scott Chernis Photography, visit his website at http://www.scottchernis.com.
About the company:
Serving the San Francisco Bay Area, Scott Chernis Photography is a professional photographer specializing in graduation, food, jazz and performance, portraits, and San Francisco event photography. Scott Chernis also provides full service event photography coverage of corporate meetings, conventions, trade shows, awards, presentations and many other events. Scott's work has appeared in numerous magazines, advertisements, and websites around the globe. Scott Chernis Photography is committed to creating unique and high quality images for each and every client.