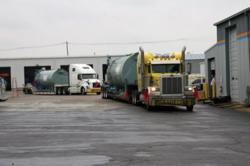 Louisville, KY (PRWEB) November 11, 2012
On Friday, November 2, the New York City Housing Authority contacted Ware in Louisville, Kentucky, to ask for help. Due to Hurricane Sandy, 85 boilers at the Housing Authority were underwater, leaving thousands without heat.
Ware immediately began to mobilize their employees and work the phones. Since no boiler company would have this many systems in stock, Ware reached out to the competition in six other states.
In a few days, Ware was able to assemble 21 systems that would be able to provide the same amount of steam as the 85 boilers operated by the Housing Authority.
Ware contacted six transportation companies and began transporting the systems that were collected from Kentucky, Tennessee, Georgia, Alabama, Kansas, Oklahoma and Texas. Almost all of the equipment was delivered in less than a week using 45 trucks. Such a major logistical undertaking has not been easy. Ware has faced many challenges through the process of transporting the equipment across the country including obtaining permits for the oversized loads and maneuvering the equipment on the roads through the snow and darkness from lack of electricity.
"This kind of cooperation is unheard of in our industry," said Steve Taylor, Ware's Director of Sales. "Everyone has been more than accommodating, knowing what the people of the northeast are going through, every competitor has stepped up to help and are doing everything they can."
About Ware, Inc.
Ware, Inc. is a full-service industrial supplier, providing sales, rental and repair of new and used boilers and chillers, remanufactured boilers and valves and service boilers. Ware, Inc. handles industrial projects both in the United States and abroad, in addition to providing boiler training classes several times a year.